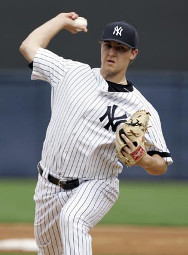 While some folks tell us not to care about such things, the fact remains that there is a fifth starter's race in the Bronx, so we may as well pass along the developments that transpire therein.
Joba pitched in that intra-squad game yesterday giving up two runs on six hits in five innings against mostly backups and AAA talent. Hughes pitched against a Phillies lineup consisting of many starters, but Hughes did pitch late in the game and there had been many substitutions by then. His line score looked superficially bad — four runs on five hits in 4.1 innings with three homers — but (a) people who were at the game are saying that the wind was blowing out strong; (b) Hughes struck out six; and (c) Joe Girardi said that Hughes had his best stuff all spring.  Which matters more than a random line score in the Grapefruit League.
Girardi says that he's going to make his decision by Thursday. Most people are assuming at this point that it will be Hughes, partially because he threw well yesterday, partially because they view Joba's appearance in a split squad game as some kind of exile and partially because people are still in love with 2007 Joba Chamberlain and the bullpen and all of that. And it may very well be Hughes. Usually when the tabloid guys pull something out of their posterior someone will contradict it in short order, but thus far no one has contradicted the "it's Hughes" conventional wisdom.
Which is fine, at least as long as it doesn't mean that the Yankees are going to forever consign Chamberlain to the pen. Working him in to the rotation a bit this season to give tired arms a rest and planing on him moving in to replace Pettitte or Vazquez next year makes a lot more sense than ending his career as a starter at age 24.
Especially considering that he really hasn't done anything to lose his spot as a starter as much as Hughes has done to win a spot as one. If that makes any sense.