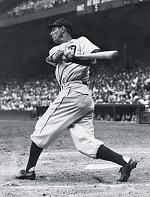 Howard Megdal thinks so, arguing that Greenberg experienced an uncharacteristic spike in walk rates towards the end of his 1938 season.  Megdal says "the American League didn't seem exactly thrilled with Greenberg's
pursuit," and concludes that "the statistical record stands as evidence that Greenberg's religion
might have been an additional barrier" to him in surpassing Ruth's record of 60 home runs in a season.
Jack Marshall simply isn't having it. He notes just how small a sample size Megdal is looking at, notes that Greenberg's 1938 walk total isn't exactly a big outlier for him and notes that other record-challenging sluggers walked and awful lot, likely due to the fact that their home run tears struck fear in pitchers' hearts. Marshall acknowledges that Greenberg had to deal with significant anti-Semitism during his career, but sees no evidence that it had anything to do with him hitting 58 homers in 1938 instead of 60.
I'm with Marshall on this one. The antisemitic mood of the nation in general and baseball in particular in the late 30s is beyond dispute, but the evidence Megdal presents here is less than compelling. Is it possible that Greenberg wasn't getting anything to hit because he was a Jew? Most definitely. It's just not the sort of thing, I think, that can be divined from the statistical record alone.  At least this record.