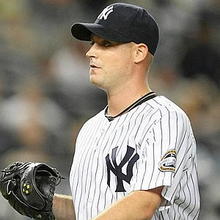 Ken Rosenthal of FOXSports.com suggests that the Yankees could soon make a move with right-hander Chad Gaudin, who has struggled to an 8.68 ERA in 9 1/3 innings this spring.
Gaudin, who turns 27 later this week, agreed to a one-year, $2.95 million contract in January, however like teammate Sergio Mitre, who inked a one-year, $850,000 contract with the club, his deal is non-guaranteed.
This means the Yankees could cut either pitcher without being responsible for their 2010 salary. (Correction: That's not exactly true. Rosenthal adds that the Yankees would owe Gaudin one-fourth of his 2010 salary, or $737,500. I'd think this would increase the chance that the Yankees will look for a trade partner.) While Gaudin has struggled during exhibition action, Mitre has been very solid, posting a 3.21 ERA and 14/3 K/BB ratio in 14 innings. Both were in the running for a rotation spot, but it's becoming pretty clear that they are more likely to hang on as a long reliever or spot starter, if at all.
While Gaudin has a fantastic shot to win with the Bombers, he'd be able to start every fifth day for any number of teams. I'll throw the Mets, Dodgers and Mariners out there as early possibilities if he's cut loose.