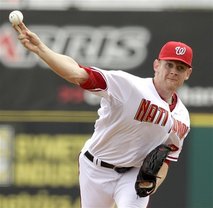 UPDATE: According to the Nationals' official Twitter feed, Strasburg has been optioned to Double-A Harrisburg.  That's that.
SATURDAY, 8:39pm: Stephen Strasburg just wrapped up what could be his last start of the spring with the Nationals.
He got off to a bit of a rough start, serving up a solo home run to Cardinals shortstop prospect Tyler Greene on the first pitch of the game — the first run he has allowed this spring — followed by a one-out home run by Allen Craig. But after that? Strasburg struck out seven of the final 12 batters he faced.
Strasburg's final line for the night: 4 IP, 4 H, 2 ER, 0 BB, 8 Ks
The 21-year-old has a 2.00 ERA and a 12/1 K/BB ratio in nine innings pitched this spring.
Those are some pretty darn impressive numbers, but Mark Zuckerman of Nats Insider has what could oddly qualify to be the doozy of them all:
In three spring
starts totaling nine innings, Strasburg has not recorded a flyout. 13
groundouts, 1 popout, 12 strikeouts.

Wow. Strasburg might start the season in the minor leagues, but you can pretty much mark it down that he'll main attraction in Washington by June.