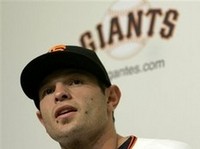 Giants manager Bruce Bochy finally acknowledged the obvious on Friday, stating that second baseman Freddy Sanchez will likely be sidelined until the "end of April, first of May."
Sanchez, who was inked to a two-year, $12 million contract in November, underwent surgery on his left shoulder in December, and to this point, has only progressed to hitting off a tee.
In need of a boost for their anemic offense last July, the Giants acquired Sanchez from the Pirates in exchange for prospect right-hander Tim Alderson. So far, they've had a pretty rotten return.
Luckily, the Giants were able to re-sign utility man Juan Uribe just weeks after Sanchez's surgery, so he'll be able to fill-in at second base until Sanchez is able to return to the lineup.