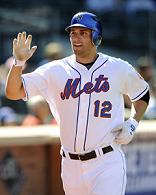 Mets fans OK with this?
Francoeur says he never learned how to steal bases with the Braves,
explaining that it wasn't part of Atlanta's offensive philosophy. But
it is part of Manuel's plans. So this spring he's told Francoeur he
wants him to run more, and now the Mets right fielder is trying to
learn how.
Francoeur is 15 for 30 career in stolen bases. He's right that stealing was never anything he was asked to do in Atlanta, so I suppose it's possible that he could do it if he works at it a bit.
But isn't it also possible that, since running was never part of the Braves' strategy, his opportunities to do so as a Brave came in only the safest situations (e.g. against horrible throwing catchers and in really favorable hitter's counts)? If so, couldn't that mean that he's an even worse base stealer than that not-acceptable 50% success rate suggests? Chipper Jones isn't any faster than Francoeur and he's a career 76% base stealer. Andruw Jones is 71%. Marcus Giles 73%. We're obviously not dealing with tremendously large sample sizes here, but I think don't think we can say that Francoeur's 50% caught stealing rate is meaningless simply because the Braves run less than everyone else.
More generally, and not to put too fine a point on it, it strikes me that you'd want to keep the game as simple as possible for Jeff Francoeur. Trying to teach him some plate discipline should be priority number one, but beyond that, let the dude just try to hit it as hard as he can and hope for the best.