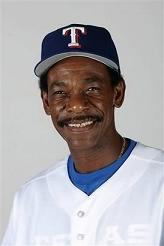 Some assorted Internet, newspaper and Texas Ranger player reaction to the Ron Washington cocaine news:
Jeff Passan: "By treating Washington's incident as a slip-up and allowing MLB to
investigate whether he had any sort of a drug problem, the Rangers did
a disservice to their players, fans and anyone else with a vested
interest in the franchise. Texas allowed a third party to chart the
course for its discipline . . . Rehabilitation does not, however, necessitate employment, no matter how
compromised the Rangers organization finds itself. Though the backlash
of changing managers would have been severe, the tone sent by the
message – drug use of any kind will not be tolerated – would resonate
for much longer."
Jean-Jacques Taylor: "The Rangers should've fired Ron Washington the day he admitted using cocaine during last year's All-Star break. No questions asked."
Rob Neyer: "I won't begin to argue that Ron Washington is a bad guy. Baseball
managers have been self-medicating for a long time, usually with
alcohol but occasionally with other things. Is an occasional (or
"one-time") cocaine user more ethically or morally deficient than a
functioning alcoholic?"
Lookout Landing: "Ron Washington has a lot going on. More, I imagine, than we could ever
know. This, of course, is all speculation on my part, and I could be
totally off-base, but I wouldn't be surprised if Washington got to the
All-Star Break, recognized a limited window of opportunity to unwind a
little bit, and seized it by the balls. That he was so up-front about
it before results came back suggests that he was aware he made a
mistake and doesn't do this all the time. And, in the end, that renders
this sort of an insignificant story. The only lesson to be learned here
is that maybe next time Washington should smoke weed like everybody
else."
Babes Love Baseball:

"Ron Washington wins the 2010 Shocker Award. Already. Seriously, who saw this one coming?

"
Ken Rosenthal: "To be sure, people have come back from more trying circumstances, but
as Ryan said, the news of Washington's drug use only increases the
pressure that he is under. That pressure existed before, exists every
day for every major-league manager. But a revelation of cocaine use
takes it to another level. Now more than ever, Ron Washington needs to win."
Jim Reeves: "Yes, the Texas Rangers should have fired Ron Washington on the spot in July. That, I suspect,
is what most teams or companies would have done. You or I probably
would not have survived such a transparently self-serving confession of
"one time" cocaine use. I'm glad they didn't, but that's personal; that's because I know and
like Washington and have grown to appreciate his managerial style more
than I did in 2007, his first year in Texas. That doesn't excuse his behavior. This goes beyond stupid. This begs
the question: How can Washington manage others when he can't manage
himself?"
Michael Young: "Going forward, I don't see it being a big issue at all. He made a mistake. He admitted it. He talked to the team about it.
Guys were able to say their piece. He gave an open-door policy for guys
to answer whatever question they wanted. You can't ask for much more
than that. It won't be a distraction for the guys. We'll get ready for
the season."
Darren Oliver: "If you're on the outside looking in, it looks really bad if you don't
know Washington as a person. But we all know him. He's a
good man. I haven't heard anything bad about him. You could tell it
hurt him. He was sincere."
Josh Hamilton: "I was an addict. All I cared about was getting more and using more
drugs. I didn't care who I hurt. He made a mistake one time.
Our stories are nothing alike. He came forward. He took it like a man.
I think Wash handled it well. It's a privilege to be a spokesman for
him. I feel nothing less about Wash. He's learned from this."
Just to reiterate my opinion, which I've now had a chance to sleep on and with which I remain comfortable:  The Rangers moment of truth was last summer. If, at the time, their conversations and intuition with respect to Washington gave them a bad vibe, yes, they would have been OK to fire him. I've worked with drug users before, and it can be a really bad scene. And while giving second chances is always something that should be strongly considered, you're under no obligation to give one if you don't think it will be used properly and if you think doing so will be detrimental to the organization as a whole.
But if you trust Nolan Ryan and Jon Daniels to run your team — and there is absolutely no reason to doubt their judgment based on anything they've done with the Rangers — you have to trust their judgment not to fire Washington. They talked to him. They considered the situation. And based on everything they knew about both the situation and the man, they decided to stick with him. I think that decision should be respected and that Washington should be allowed to do what every other manager gets to do: get fired for losing ballgames one day.