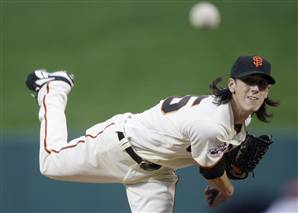 Paul Hoynes of the Plain-Dealer has a story I've never heard before: the Indians drafted Tim Lincecum in the 42nd round of the 2005 draft.  Ok, I knew that part. He demanded $1 million to sign, which is really high.  The Indians offered $700,000, he said no, and went back to college and the rest is history.  I knew that part too. The part I didn't know:  Major League Baseball got all kinds of mad at the Indians for even offering the $700,000 because that was above the slot recommendation for the 42nd round.
Lincecum was a well thought-of prospect, but he was coming off a bad sophomore year. The Indians, and a lot of other teams, realized that he'd be pretty good, but were trying to make a value play: get the guy when he's at his lowest, maybe even when he's worrying if he had the stuff to make it.  Maybe he jumps at the $700K!  It's definitely worth a shot, and if it had worked, baseball as a whole would have saved a over a million bucks on what they ended up paying Lincecum when he eventually did sign ($2.025 million with the Giants a year later). Heck, even if they had met Lincecum's demand they would have saved over a million.
But rather than applaud the effort to buy low, baseball got all pissy at Cleveland in an effort to maintain their misguided and counterproductive slotting system.  Just foolish.