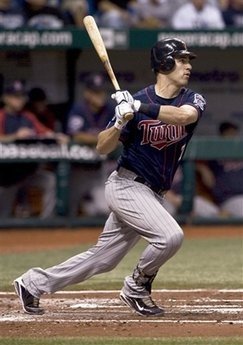 I had some fun tweaking fans of small market teams with that scout's quote about the Yankees and Joe Mauer yesterday, but RAB's Joe Pawlikowski is having none of that:
As it stands, the Yankees have $144 million locked into the 2011 payroll before they work out contracts for Derek Jeter and Mariano Rivera. They'll also have arbitration cases for Joba Chamberlain and Phil Hughes. In other words, they could be near $185 million for just 13 players — and that doesn't include Javy Vazquez or Andy Pettitte. At that point they'd probably need at least one starting pitcher. Other needs could crop up during the season, including left field.
In light of that, Joe says, and in light of the fact that they'll still have Jorge Posada under contract and have no fewer than four catchers in their system who could succeed him, why on earth would the Yankees commit $200 million or whatever it is to Mauer?
And I think he's right. I know many of you will scoff at the notion of the Yankees having a budget, but they do apparently have one now. And even if it's a budget so large as to make the term close to meaningless, the Yankees have shown these past few years that they're not going to sign a guy just to sign a guy. They'll sign for need — look for Carl Crawford in the Bronx next year, and there's always room for another pitcher — but they won't triple or quadruple up on something they already have.
Most likely scenario: Mauer stays in Minnesota. If not: the Yankees feign interest in order to annoy the Red Sox or Mets or whoever, but ultimately don't bite on Joe Mauer.