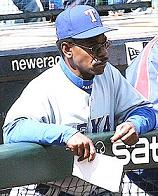 Randy Galloway of the Ft. Worth Star-Telegram drops a bomb in last night's column: Ron Washington and the Rangers were being blackmailed over his positive cocaine test.
Galloway reports that numerous team sources have confirmed that the blackmailer — a team employee who was fired in the offseason — was making
"strong demands." The obvious upshot: if the demands were not met, Washington's cocaine story makes national news. Some
of the demands were met, Galloway reports, but the club balked at personally giving the
former employee a recommendation letter and one
other request, which Galloway either doesn't know about or simply won't say. Galloway says that by January "the former employee was
bad-mouthing Washington around north Arlington."
Galloway says "[b]lackmailer was
real unhappy," and that all was still quiet until this week when Washington received a
call "from a national baseball writer saying he had the Ron-does-dope
details."  That national baseball writer would be Jon Heyman, the man who broke the story, wouldn't it?  I trust he didn't know that his tipster — if that is indeed where he got the story — was a blackmailer as opposed to any other team-connected source.
There's also no word here that the police were ever involved, but if what Galloway is saying is true,  the Rangers should have alerted them.