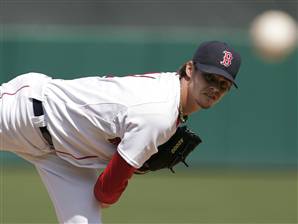 Is it possible? Is Clay Buchholz all "growsed" up?
It's certainly sounding like it after another strong spring outing by the confident young right-hander. And with less competition in camp this spring, the 25-year-old has his mind set on finally earning a regular spot in Boston's starting rotation.
[From MLB.com]
"Last year I sort of knew that I didn't have a spot coming into Spring Training, because we had Smoltzie and BP in front of me," Buchholz said. "So it was a little different. But at the same time, I'm preparing the same, going out and trying to do the things that I work on out of the game, and I'm trying to bring them into the game. So I feel the same. It's the same goal to break camp with the team, and that's going to remain my goal for the duration of Spring Training. But nothing really different about it."
This sounds like a different Buchholz from the guy who admitted frustration at being stuck in the minors last season.
Instead, he sounds determined to win a starting spot for the long term and not just until Daisuke Matsuzaka returns to full health. Maybe he will finally get a chance to live up to the promise he showed so spectacularly with a no-hitter back in 2007.
And whether he sticks long term or not, it seems likely he'll cease to be the constant subject of trade rumors. Unless, you know, a certain basher in the Pacific time zone becomes available. Then all bets are off.
Are you on Twitter? You can follow Bob here, and get all your HBT updates here.