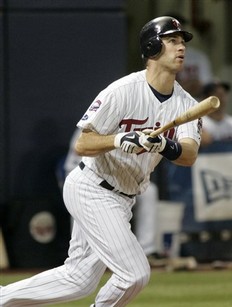 Mike Silva at NY Baseball Digest:
The Twins could get a king's ransom from the Yankees for Mauer.
Think Hughes, Joba, and Montero as cornerstones of the package. If they
are concerned about development timeline of Montero, then perhaps you
could add Posada to the deal since he only has a year left on his
contract. If the Red Sox come calling then the package could get even
better.
I love Joe Mauer. You love Joe Mauer. We all love Joe Mauer. But anyone who thinks that the bidding for Joe Mauer starts with Hughes, Joba and Montero — and quickly grows to include Jorge Posada and more if the negotiations bog down — has probably suffered serious head trauma in the past 48 hours.  It's ridiculous to even be playing the "what would it take to get Mauer" game right now, but if you're going to play it, at least do so sensibly. The guy has a season left on his deal, will take hundreds of millions of dollars to lock up, and he's a catcher.  For that you give away every valuable young player you have. For starters?!
But the best part of the piece is the line in which Silva says "Mauer deserves the big stage of New York."  Like it's some freakin' gift.  I'll leave the dismantling of that statement to Jason, who is more conscious of, and more opposed to, the New York exceptionalism that has sprung up these past few years:
You know who deserves Joe Mauer?  The fine people of Minnesota.
If you ever want to tear your hear out at ridiculous Yankee commentary, go read Jason's stuff for a reminder that even Yankees fans can be sane.