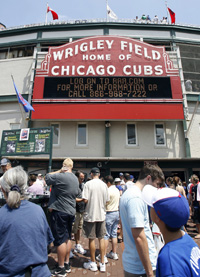 When the Ricketeseses took over a few months ago they said that they were going to ensure that Wrigley Field maintained "it's essential character."  Apparently part of that character — in addition of the urinal troughs, which will not be touched — includes a big billboard above the left field bleachers:
The Cubs filed a permit application this week for a "projecting,
illuminated" billboard rising high above the left-field bleachers that
has the potential to rake in big bucks from advertisers at the expense
of offending purists.

But, there's a problem. The 75 foot high, 360 square foot billboard
has raised the eyebrows of local Ald. Tom Tunney (44th). And it may not
pass muster with the Commission on Historical Landmarks, which must
decide whether new signage conforms with Wrigley's landmark
designation.
Two thoughts:
Given that the biggest thing out towards left field for the last couple of decades has been a giant advertisement — one that the Cubs didn't even make any money on — I'm not sure that putting up one to block it is the end of the world. Right now the ad is for a cheesy Indiana casino.  They also cut into the damn ivy in the name of spandex recently. I can't imagine that whatever the Cubs put up on their own billboard will do any more to "offend purists" than that stuff;
I sure hope the dimensions of the sign listed in the ad are wrong.  If the thing is really 75 feet high and 360 square feet, it must only be 4.8 feet wide.  Unless they're advertising pens or longneck beers or something on it, it's gonna look funny.
Way I see it is if you want to keep Wrigley Field around you have to keep the place economically viable. The Ricketseseses are following the Fenway model in terms of renovating the ballpark. It's a good model. It also requires squeezing as many dollars from the place as can be squeezed.  I think the de minimus aesthetic intrusion of a billboard in left is worth it if it means dragging Wrigley Field into the 21st century.