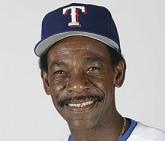 Wow:
Texas Rangers manager Ron Washington tested positive for cocaine during the 2009 season, SI.com has learned. Washington, 57, has been subject to increased drug testing since his
failed test, which was administered by Major League Baseball last July,
and he has passed all of his subsequent tests. In deciding to support
Washington and retain him as manager, the Rangers accepted his apology
as heartfelt and also his explanation that this was a one-time
transgression.
I just finished reading a book called The Pittsburgh Cocaine Seven by Aaron Skirboll. It won't be released for several months, but when it comes out you'll definitely want to read it.  It details the Pittsburgh cocaine trials of 1985 and the crazy, coke-filled years Major League Baseball experienced leading up to them.
Ron Washington played during the years chronicled in that book. Between the time frame of his heyday and that of the book, my first impression of this news it to be skeptical of the "one-time transgression" language of the team's statement.  How many people try
coke for the first time at age 57?  Especially those who worked in an environment absolutely lousy with cocaine for so many years of their youth?
That said, I like Ron Washington as much as the next guy, and I'm happy to see that he has passed subsequent testing.  I'm also pleased to see the Rangers give him another shot rather than do the easy thing, which would be to cut him loose. By all accounts he's been a loyal guy and his players are said to like him. People deserve second chances.