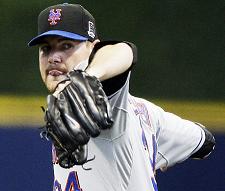 Wednesday has been an incredibly busy day on the MLB news front, so much so that one of my favorite quotes of the afternoon got lost among the abundance of noise.
Here's Mike Pelfrey, as quoted by Anthony DiComo of MLB.com, after allowing one run on four hits over four innings against the Red Sox on Wednesday:
"I think one day I'd like to become an actual pitcher."
Though he was speaking in jest, there's a real kernel of truth in there. The 26-year-old right-hander was recently told by pitching coach Dan Warthen to rely less on his sinker, his primary pitch. In turn, Pelfrey estimates than more than half of the 66 pitches he threw on Wednesday were his secondary offerings  — curveball, slider and splitter.
Of course, Pelfrey has long been praised for his sinker, but while the pitch was a real weapon for him in 2008, he turned in a negative run value with the pitch last season, according to Fangraphs.
Pelfrey was 10-12 with a 5.03 ERA last season, garnering the reputation as a headcase on the bump thanks to six balks, but it probably didn't help that someone who induced groundballs 50.1 percent of the time had one of baseball's worst defenses behind him. Thus, we shouldn't be too surprised to see his batting average on balls (or BABIP) in play go up nearly 20 points to .321 and his strand rate fall to 66.7 percent.
Sure, I understand that news about pitchers tinkering with their arsenals is typical spring training fodder. I get that. I really do. But for a rotation in need of a reliable arm behind Johan Santana, the prospect of Pelfrey becoming less predictable to opposing batters just became an intriguing storyline to track this season. Still, nothing can save him from Luis Castillo patrolling second base.