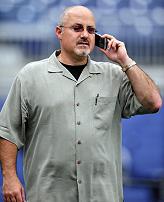 Well, he's going to be on a blog — Ben Goessling's MASN blog — doing Q&As, taking reader questions and stuff like that.  It will be a weekly feature.
The only interesting front office blog or blog-like experience I've really ever seen was Padre assistant GM Paul DePodesta's, which was kind of interesting for a while, then slowed way down last summer, and now appears to be dead, not having been updated since December. I suppose it's possible that Rizzo will break out all wild and crazy-like on Goessling's blog, but given that this appears to be nothing more than regularly scheduled interviews as opposed a real blog, I'm not counting on it.
But one of these days a GM, agent, manager or someone like that will truly figure out how to harness blogs and social media in a way that (a) gives the fans a truly fresh insight into what goes on inside baseball; while (b) not crossing some line that makes PR professionals cringe. When that happens we'll finally get to see something new.