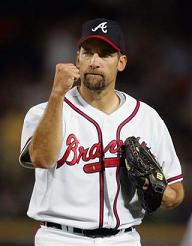 Jeff Shultz of the AJC spoke with John Smoltz today to see if he's retiring or not.  Smoltz wouldn't use the word, but placed his odds of pitching again at 50-1 and said "My desire to work out every day is still there.  But my desire to throw 50 to 70 times a day isn't." So yeah, I'd say he's done.
While he's probably my least favorite of the Braves' Big Three, and certainly wasn't the best, there's an argument that John Smoltz was the most important in many ways.  He was traded to the Braves by the Tigers just after my allegiances had shifted from the Braves to the Tigers in 1987, so he's obviously an important figure in my fandom as well.  Still, I don't think I've yet worked out all my feelings about John Smoltz yet — his retirement, such as it is, was a bit less anticipated than Glavine's or Maddux's — so I'll save the career eulogy for a spell while I think on it.
Short version: yes, Hall of Famer, but that's not terribly interesting to me.  I'm more interested in what he meant to the Braves and their fans. What he represented in that tenuous way players can represent anything.  I'll dive into it more when I gather my thoughts.