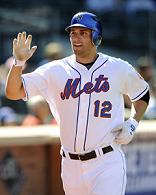 I slam Jeff Francoeur a lot for the things he does poorly, but I should be fair and note one thing he does really well, and that's kill runners from the outfield.  MLB.com has a feature on that today.  Most interesting quote comes from Andre Dawson, who was rumored to have a bit of his arm himself once upon a time:
"You gain a reputation that you probably deserve, and no one wants to
test your arm. But sometimes I think your reputations get better than
your arm. I could still throw when I retired, but I think some
third-base coaches who hadn't seen me throw for a while gave me too
much credit."
As Dawson would no doubt agree, this is one area where being overrated is a wonderful thing. Better than killing a high percentage of runners at the plate is not having anyone try to advance on you in the first place.  Francoeur probably gets that benefit of the doubt a lot these days, and will continue to do so even as his arm strength inevitably declines with age.
But you kind of hope some will still test him. Francoeur threw out two guys at the plate a week ago Sunday when I was in Port St. Lucie watching the Mets-Nats game. By far the most exciting plays in the game. I was in the press box and thus couldn't cheer, but it took every ounce of strength I had to keep from doing so. And that's with one of my least favorite players on my least favorite team.  If it had been Jason Heyward throwing dudes out I probably would have 'asploded.