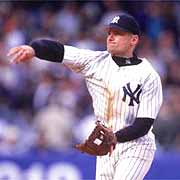 An ugly scene involving the former Twins and Yankees second baseman comes to a close:
Former New York
Yankees star Chuck Knoblauch pleaded guilty today to a misdemeanor
charge of assaulting of a family member in exchange for a year of
deferred adjudication, according to court records.

The Houston native
was accused of choking his wife, Stacey Stelmach on Sept. 25, 2009,
after drinking and taking the anti-anxiety prescription drug Xanax,
prosecutors said.
Among the noted side effects of Xanax are aggression, rage, hostility, mania, agitation and restlessness. Combining it with alcohol is considered highly dangerous, and has been linked to behavioral changes and other nastiness.  Maybe it's time Knoblauch gave up both.