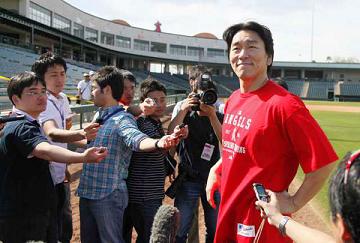 This press release came out of Anaheim Angels central earlier today:
On Tuesday April 6, 2010, the Angels will attempt to break the Guinness World Record for the "largest gathering of people wearing fleece blankets."
All fans in attendance at the Angels vs. Minnesota Twins game (7:05PM)
will receive a complimentary Hideki Matsui Blankie courtesy of Konica
Minolta.

"We are very excited about this special opportunity," team spokesman
Tim Mead said. "Setting this world record will be a unique and
memorable experience for our fans, the first of many in 2010."
According to the release, the current record for the largest gathering of people wearing "fleece
blankets" is 17,758 set by the Cleveland Cavaliers on March 5th.
That, of course, was widely billed as the "Snuggie" record,
named after those ridiculous wearable blankets. I suppose the keepers
of the record books make them call it the "fleece blanket" record so
that the Snuggie corporation doesn't get free advertising out of the
deal. You know, like the beer company that is the namesake of the
record book sanctioning the record.
Anyway, I don't want the world to
end on April 6th, but if it does — and this event makes it slightly
more likely to happen in my view — I will be tickled by the notion that alien
archaeologists might one day find our world and think that our
civilization worshiped a god named "Konica Minolta Matsui" by
assembling by the tens of thousands while wearing synthetic ceremonial
cloaks in his honor.