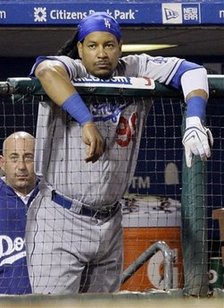 A summary of Bob Klapisch's take on Manny Ramirez:  He was totally awesome until he tested positive for PEDs, and then we all realized that he was a fraud and now he needs to prove he can still produce without the drugs. But if he does produce this season we'll have no idea if he's doing it legitimately or not because he has every incentive to cheat.
I may not agree with Klapsich's particular take on PED testing, but if negative PED test results are not treated as even prima facie evidence that a guy is playing clean, I'll agree that there's something wrong with the system.  Or something wrong with the guys who like to throw stones at everyone. Can't decide which.
But maybe the most astonishing thing about the column is this passage:
If only Manny hadn't succumbed to steroids, history would've eventually
glossed over his other transgressions, including his abandonment of the
Red Sox in 2008. The faked knee injury could've been written off to the
desperate act of a player who could no longer co-exist with his
teammates. But the positive test changed everything.
I personally think that the lowest point of Manny's career — the blackest mark against him — was his behavior in his final days in Boston. He quite obviously faked his injures, quit on his teammates and when he did play didn't even try.  That behavior, in my mind at least, was far more damaging to baseball competition than any drug he ever took.  That Klapisch can say that such behavior pales compared to his PED use suggests to me that we have either greatly overreacted to PEDs as an evil in the game or are far too dismissive of mid-2008 Manny Ramirez-style jackassery.