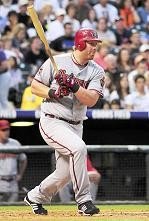 Adam Dunn had to leave today's Nats-Marlins game due to back spasms. According to Bill Ladson, he hurt his back trying to make a defensive play in the top of the second inning.
Dunn says he'll be fine and will probably play tomorrow, but add this to the ever-growing list of bad things that have happened as a result of Adam Dunn being forced to play defense.  The list of good things that have happened will begin to be compiled the moment anything good happens.
Those alien archaeologists I mentioned in the Snuggie post?  Yeah, well, they'll have historian friends with them who will spend years trying to figure out how it was that Adam Dunn played thousands of baseball games in his career without ever being a member of an American League team.
Wait, that's not true. Beings that perfect interstellar travel will have highly advanced, highly rational minds. The sort of minds that will never consider that a major sports league created something as ridiculously awful as the designated hitter.