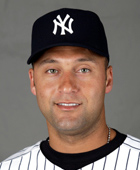 Mike Vaccaro has a column today about how the presence of Derek Jeter and his presumptive multi-year deal likely contributed to the Yankees missing out on Cuban free agent Adeiny Hechevarria, who seems to have signed with the Blue Jays. Vaccaro is realistic about it — it's not like you let 19 year-old prospects dictate what you do with your still-elite Hall of Fame shortstop — it's just one of them things, ya know?
The column did make me think, however, about the position for the Bombers. Specifically, I tried to think of who, exactly, was manning shortstop before Jeter took over full time in 1996. I recalled Tony Fernandez had the position in 1995, but before that it was a total blank.  I held out as long as a I could before consulting Baseball-Reference.com, but ultimately I couldn't get past Fernandez.
Anyway, just for "oh wow" sake, here is the list of the guys who manned shortstop for the Yankees between the Bucky Dent and Derek Jeter eras, in reverse chronological order: Fernandez, Mike Gallego, Spike Owen, Andy Stankiewicz, Alvaro Espinoza — who actually held the job for three years! — Rafael Santana, Wayne Tolleson, Bob Meacham, Roy Smalley and then back to Dent.
There are new prospects every year. Anchors at shortstop are pretty damn rare.