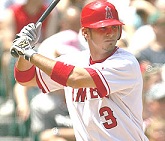 Mike Scioscia more or less confirmed what folks who think a lot about baseball had been hoping for: Brandon Wood will break Angels' camp as the starting third baseman.  There had been concerns that the three-year, $10-million deal the club gave to Maicer Izturis this winter would serve to block Wood. Again.  Scioscia says, however, that he's "looking for [Wood] to get the first opportunity there, with Izzy helping
out with the versatility he brings to play second, third and shortstop."
Wood hasn't been
consistent in his multiple cups of coffee over the past three years, but he has simply raked
down on the farm. He has power. He has nothing left to prove at AAA. The Angels need to play him now or lose him forever. I'm high on him, so I'm happy to see that he's getting a shot at regular playing time.  The only question now is, if Wood struggles early, how short a leash Scioscia will have with him.