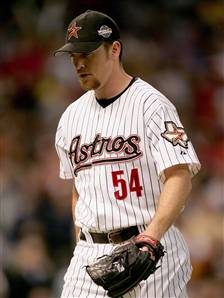 I remember when I first realized that Albert Pujols was GREAT. I already knew he was great, mind you, but there came a time when the simple lower-case modifier was no longer good enough to describe the St. Louis Cardinals slugger. Sort of like calling the Grand Canyon big, or the Pacific Ocean wet, it didn't quite measure up.
Anyway, the moment when Pujols became GREAT for me came in Game 5 of the 2005 NLCS, when he slugged a game-winning home run of such Hobbs-ian proportions that it nearly derailed not only the train at Minute Maid Park, but Brad Lidge's career along with it.
Lidge was filthy that night, with high-90s gas, a high-80s breaking ball and a bucket-full of confidence. But Pujols changed that with one effortless, violent flick of his wrists. It's not a wonder it took Lidge three years to recover.
[For those of you with a fuzzy memory, you can relive the moment here. As for Astros fans, you may comfort yourselves in knowing that your team eventually advanced to the World Series despite Pujols' heroics. Then, you may cry yourselves to sleep knowing it's not going to happen again anytime soon.]
Morgan Ensberg, the third baseman on that Astros team, gives readers some insight into that game in his blog – which is quickly becoming a must-read. In a post on Monday, Ensberg writes that Pujols shouldn't have had the chance to play hero in that game, that if he had been positioned properly at third base, Pujols would not have even come up to bat.
In the ninth inning, Lidge started out by striking out John Rodriguez and John Mabry, with leadoff hitter David Eckstein coming to the plate. A light-hitting contact hitter, Eckstein was simply looking to get on base and was highly unlikely to pull the ball down the line. Ensberg, recalling this, says he was positioned too close to the line by manager Phil Garner.
But you should know that there is a optical illusion at Minute Maid Park. Phil Garner (manager) sits in the first chair of the dugout protected by the handicap elevator in the first base dugout. From his vantage point, it looks like the third baseman is directly inline with him.  However, the view from the third baseman's vantage point is off to the left by about 5 feet. This is a problem.

Garner is lining me up according to the spray chart, but I am not where he thinks he is moving me.  I am actually closer to the line then he would want due to the illusion but there is nothing that can be done.  From his view I am in the exact spot that I need to be.
Eckstein ends up singling into the hole past Ensberg, Jim Edmonds follows with a walk and Pujols makes history. Baseball, ladies and gentlemen, is a game of details.
If Phil's view wasn't off-set, I could have made the play and the game would have been over. [Instead] Lidge throws a fast ball that Eckstein hits in the 5-6 hole for a base hit.
Two batters later, Pujols makes history and there is no optical illusion involved there at all.
Ensberg gives some other interesting details in his post, so go head on over and check it out. I find it fascinating how the simplest of mistakes can change the course of baseball history. But seeing as how in this instance Pujols gave baseball fans such an unforgettable moment, I'm perfectly OK with how things turned out.
Are you on Twitter? You can follow Bob here, and get all your HBT updates here.