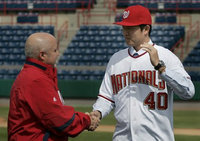 According to Bill Ladson of MLB.com, Chien-Ming Wang threw his first bullpen session of the spring on Monday.
Wang, who is currently rehabbing from shoulder surgery, threw 10 pitches on flat ground and then 15 pitches from the mound. Nationals pitching coach Steve McCatty was satisfied with what he saw:
"I was happy with what he did," McCatty said. "He felt good and the ball
has that sink to it. It was very good to see. The arm slot looked good.
He was free and easy with the ball."
Wang was signed to an incentive-laden one-year, $2 million contract with the Nationals in February, although he isn't expected to be ready to pitch in the majors until at least May.
It's not much of a stretch to imagine a rotation of Wang, Stephen Strasburg, John Lannan, Jason Marquis and Jordan Zimmermann in Washington by September. In other words, look out, the Nationals could resemble a real, competitive baseball team real soon.