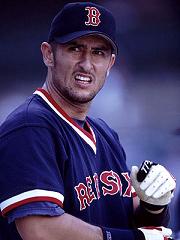 Friend of the blog and professional ethicist Jack Marshall has put some thought to Nomar Garciaparra's one-day contract/retirement with the Red Sox. After registering his surprise and displeasure with Dan Shaughnessy's highly negative reaction, Jack throws an interesting idea out for consideration, that applies to sports and beyond:
When an organization has parted ways with any individual who has
been unusually important in its development, it has an ethical
obligation to make certain there is genuine closure and reconciliation
some day, some way. Unless the individual actually harmed the
organization or institution so grievously that it erases any benefit he
and she conferred, not to acknowledge a debt of gratitude and
recognition estranges the organization from its past, and whiffs on the
important values of respect, fairness, gratitude, and kindness. And
rare is the former organization super-star who is so bitter about his
exit that he won't accept this important gesture.
You can identify dysfunctional organizations by their refusal to do this.
I was in the Sox press box last Wednesday for the announcement and, later, Nomar's
press conference. When the news started to spread, several people scoffed and sneered.
Nomar? The guy who moped his way out of town in 2004 and whose departure paved the way for the 2004 championship? He's got a lot of nerve.  Shaughnessy peddling that stuff was predictable, but I was surprised at how negative the reaction was overall. I was even more surprised that some of that negative reaction was directed at the Sox themselves for entertaining the notion of honoring Garciaparra in the way they did (and, presumably will continue to do).  Say what you want about Garciaparra's tenure in Boston, but personally, I agree with Jack's take on how healthy organizations
should handle this stuff.
But it went even further that morning. The second question asked to Nomar during the
press conference was who-approached-who first. Nomar admitted that he
made the overture to Theo. You could tell by how quickly everyone
started writing that the press smelled a "desperate Nomar asks to be
let back in the family" angle that reflected their own biases.
Theo,
however, sitting right next to Nomar, almost immediately jumped in to say
(not in so many words, but in effect) that it doesn't matter who approached who, the organization thought it was
a wonderful idea, that they embraced it and other words along those lines. This suggested to me organizational health in both the way Jack described it in his post — that they're willing to let bygones be bygones — and in its manifest desire to protect their
own from attacks from outsiders who may mean to do harm (i.e. Theo's save).
I think anyone
would want that from their employer, and it certainly made an
impression on me. The fact that anyone is mining negativity out of it all says more about those doing the mining than the principals involved.