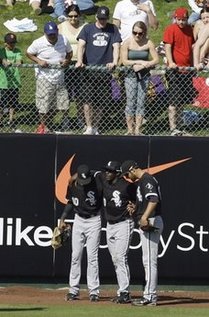 Bad news for one of the White Sox brightest prospects, as outfielder Jared Mitchell could miss the rest of the season with surgery for a torn ligament in his left ankle.
Mitchell injured the ankle during the sixth inning of Friday's game against the Angels after crashing into the left field while making a spectacular catch. The 21-year-old was carted off the field and taken for X-rays.
Here's Ozzie Guillen:
"It's supposed to be about a year. We have to wait to see after surgery
happens. Hopefully, everything goes well. The more important thing after
that is the rehab, and hopefully, he'll get back pretty quick. We'll
see what happens."
Mitchell was Chicago's first-round pick in last year's First-Year Player Draft. The LSU product batted .296/.417/.435 with zero homers, 10 RBI and five stolen bases in 115 at-bats for Single-A Kannapolis in his pro debut last season, but has drawn raves from scouts about his power-speed potential. He was recently ranked as the organization's No. 1 prospect by Baseball America. Let's hope it's not a complete lost season for the youngster.