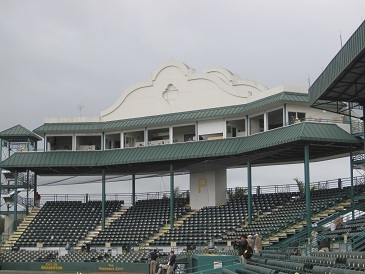 My original plan didn't have me going down to Bradenton to visit Pirates' camp, but when the Yankees decided not to offer me media credentials some time freed up, allowing me to catch the Pirates-Rays game yesterday afternoon.  I would like to thank the Yankees for their decision, because it meant that I got to spend a day at McKechnie Field, which is a truly awesome old ballpark.  So awesome, that it led to an epiphany of sorts later in the day.  I'll get to that later, though.  Let's talk about McKechnie Field.
A ballpark under various names has been at this location since 1923. Sure, it's been renovated several times, most recently in the early 90s, when most of the thing was actually rebuilt, but the place that stands there today represents everything good about older ballparks.  Simple design. great sightlines. A simple, democratic seating arrangement. An old-timey atmosphere that isn't self-consciously retro.  There are some amenities — and some great ballpark food — but the point of McKechnie Field is the baseball game, not entertainment or a "fan experience."
My routine each morning has been to pick up press credentials early — say, 7:30 or 8AM — find a place to set up and then just wander and talk to people.  This hasn't been a problem anywhere inasmuch as every team has scads of employees on-site doing any number of things from the crack of dawn, and someone has always been available to get me credentials. Not so at McKechnie. When I arrived just before 8AM there were some ushers there and only a handful of team employees. When I asked if I could get my press pass, the young man at the will call window rifled through a box of documents and then told me that the day passes for yesterday must be "over at Pirate City," and that one of his co-workers would be bringing them by later.  "You're kinda early," he said. "Try back after 9."
If this had happened at most spring training parks I probably would have had to go sit in my car or something, but since McKechnie Field is on a city block instead of a larger complex like some of the other places, I had options. The closest option was Popi's Place, a greasy spoon diner next to the ballpark. The walls are covered with Pirates' photos, poster, pennants and stuff. The clientele that morning was decidedly blue collar, with most of the people looking like they were on their way to work. I ordered some biscuits and gravy and eavesdropped. Maybe I was imagining things, but the accents and the subject matter sounded as if someone had taken a slice of western Pennsylvania and plopped it right down in Bradenton.
When I finished, I wandered back to the ticket office. The skies were dark, the wind was whipping and the odds of a ballagame taking place that afternoon seemed poor.  The guy operating the press elevator — 80 years-old if he was a day — was more optimistic: "Ah, this is Florida.  It might rain and then snow and then get up to a 100 degrees before noon. You never know."
I found a seat in a press box I'll call cozy — I have no idea what they do when the Red Sox and their sizable media entourage visit — and set up my stuff.  For the second day in a row I found myself sitting next to an old timer. This time it was a guy named Ed Bridges. He said he was a columnist, and his press pass indicated that he worked for a smallish Florida paper whose name escapes me right now. He said he was basically retired, but that he covered the Expos from the 1970s "all the way through to the end."  I'm not sure what paper he worked for and I can't find any references to him online. Didn't matter though, because he told me some great stories — not too many of which are repeatable — and went on a wonderful anti-Tim McCarver jag that will get me through the playoffs this fall.  Ed's good people.
Set up and ready to go, I hit the field and the clubhouses.