As I've mentioned a couple of times, the Yankees denied my request for press credentials. I don't have any problem with this. There are a metric crap-ton of writers who cover the Yankees, space, even in a big new park like Steinbrenner Field is limited, and if anyone in YankeeLand reads my stuff, they know that I don't exactly write things that make clubhouse and pressbox access an absolute necessity. It is what it is. And to be honest, since the Braves were in town for last night's game, I looked forward to enjoying it like a fan.  Unfortunately . . .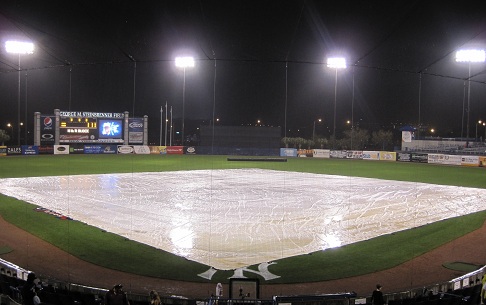 Ugh. I decided to hang around for a bit, however, and pretend I was a reporter.  Down in the Yankee gift shop I overheard a couple of fans opining that, despite the terrible weather forecast making the game a near impossibility, the team didn't cancel it earlier because if they had they wouldn't be able to collect $10 a car for parking and thousands upon thousands of dollars in sales of overpriced Yankees merch.
I went up and talked to them. One of them, Gary, is a Braves fan from Atlanta. The other, Gary's friend Steve, is a Yankees guy.  They wouldn't let me use their last names, but they were free with their opinions. "They're shrewd," Gary said. "They know what they're doing. We're all in here, so why not sell us stuff."
Steve noted that he came to a similarly rainy spring training game back when George Steinbrenner was in charge. "George was out on the concourse himself, handing out umbrellas."  Gary added "the only thing we get offered is a chance to buy things."  At that point he picked up a Yankees shot glass from a nearby shelf and checked the price. It was $8.  "And we have to take a loan to get even that," he chuckled.
Not that they were complaining too harshly. Both Gary and Steve acknowledged that their ticket money could be refunded, even if the parking fees wouldn't be. They also pointed out that the Braves only visit Tampa once each spring, and given that it's a marquee game, the team has to try everything it can to get it in.  Everyone agreed that the there weren't exactly any great options available and, at the end of the day you can't really do much about the weather.
After leaving Gary and Steve I wandered out to the stands to get a look at the place. Granted I wasn't there long, but my quick sense: Steinbrenner field might as well be a major league park. Between its size, the prices, the sheer number of rabid fans, the police out in the parking lot directing traffic and everything else, it's a much more big time atmosphere and experience than many Reds and Pirates home games I've been to.
Not that this is necessarily a good thing.  There are a lot of people who come down to spring training for the intimate, casual atmosphere. To get close to the ballplayers and closer to the action than they can back home.  That's all out the window at Steinbrenner Field.  I can't blame the Yankees for this — so many people want to come see the team that having them in some place like McKechnie Field would be an impossibility — but it's sorta sad on some level.  Nothing can be done about it though. The Yankees Universe is the Yankees Universe.
And if you want, you can get a shirt that says so for around $60: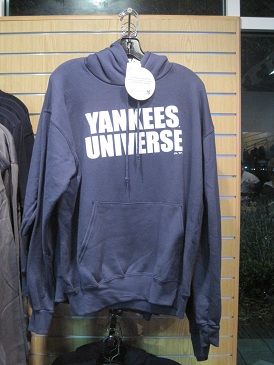 The game was canceled at 8:30. I went back to my hotel and got some sleep.  No games today — and even if I was heading to one it would probably be postponed due to the rain — but I'm heading to Clearwater to catch the Phillies tomorrow.  I'll probably hold the Scenes from Spring Training posts until Monday, though.  Until then, back to the blogging.