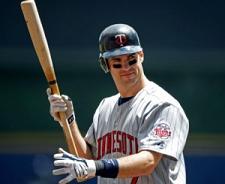 Nature abhors a vacuum and apparently baseball writers abhor a lack of news:
Mauer still has more leverage than Pat Williams on a teeter-totter,
but as negotiations have lagged, Mauer's hesitancy to accept a
record-setting contract offer from his hometown team has made his
signing less than a sure thing and raised this previously unthinkable
question:

"Won't the Twins have to trade him if he refuses their best offer?" . . .

 . . . a combination of modern baseball logic and Twins history
suggests that if the Twins' decision-makers can't sign Mauer, they will
be obligated to trade him . . . A trade could yield a closer to replace Joe Nathan and would protect
the franchise in the future from having one player on their roster
consuming 20 to 25 percent of their payroll, a formula that rarely
works in baseball.
Joe Mauer for a closer?  Well, you drive a hard bargain, Twins, but I suppose Theo Epstein may bite the bullet and trade, say, Jonathan Papelbon for him.  OK, Papelbon and a second or third tier minor league catcher to fill your organizational needs, but that's his final offer.
Back here in the real world, the only thing trading Joe Mauer will "protect" the Twins from is from having to make ushers wipe down the upper deck seats before home games, what with the fact that no fans will ever show up to sit there.
The Twins are almost certainly going to sign Joe Mauer. If they don't, they'd be better off simply letting him walk while engaging in kabuki theater to make everyone think that he was the bad guy than shipping him out for what, at this point, wouldn't be quite the haul everyone thinks it might be.