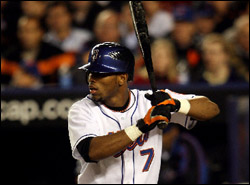 The Daily News and its "I-Team" are usually the first ones to hurl PED accusations at ballplayers. The latest: suggesting a link between Jose Reyes' thyroid condition and his treatment by Dr. Anthony Galea:
Anti-doping experts have long wondered whether abnormal levels of
thyroid hormones can indicate doping. At least one clinical study has
linked HGH injections to fluctuations in thyroid hormones, and it's
clear that the thyroid hormones T3 and T4 have become popular among
bodybuilders – often a reliable indicator of what doping methods are on
the horizon for pro sports . . .

. . . New scrutiny of thyroid hormones and their interaction with HGH has come amid the confusing reports on the health status of Mets shortstop Jose Reyes,
who either has an overactive thyroid (as the Mets claim) or is
perfectly fine (as Reyes himself claimed on Tuesday). Reyes underwent a
round of diagnostic tests Tuesday in New York. More tests are
forthcoming, and doctors are likely to examine records of blood tests
Reyes has undergone earlier in his career.

And while those efforts may reveal Reyes has a natural illness, they
also come on the heels of his admission that he received treatments
from Anthony Galea, a Toronto doctor who has been charged in Canada
with several drug offenses and is under investigation in the U.S. for
conspiring to smuggle drugs, including HGH, across the border.
Other things that can cause thyroid problems, but for which the Daily News does not have an "I-Team": exposure to radiation, an iodine deficiency, a overconsumption of brussels
sprouts, broccoli, rutabaga, turnips, kohlrabi, radishes, or
cauliflower (seriously); heredity; fluroide exposure and any number of
other things.
Look, I don't know if Jose Reyes has ever taken HGH. But then again, neither does the Daily News, and in the absence of any actual, you know, evidence, this story is nothing more than rank speculation.