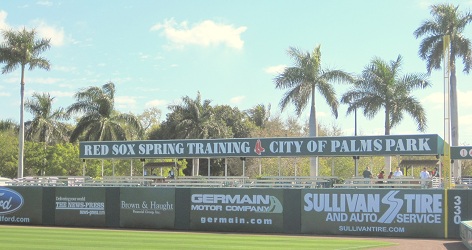 I haven't been to Steinbrenner Field yet so this may be a bit
premature, but I'm going to go out on a limb and say that a Red Sox
spring training game is about as close to a major league experience as
you're going to get in the Grapefruit League. For better and for worse.
City
of Palms Park is really just a ballpark and not part of a larger spring
training facility. The Sox actually do their training at a player
development complex a couple of miles away, thus depriving the visitor
of that campus-like setting most places have.  If you're parking at the
ballpark you're there for a game, not to gawk at a lot of pitcher
fielding practice and shuttle runs and stuff.
The park is also
more squarely in the city than either the Mets or Twins parks are, so
you're basically just parking your car, walking up a sidewalk and
heading on in to the stadium. No Mike Greenwell Drive or Troy O'Leary
Street. Just a meat and potatoes ballpark. Oh, and if you're visiting
media you have to pay to park just like the fans do.  I love the smell
of democracy in the morning.
I've not been inside a real big
league press box, but I'm guessing City of Palms' press box is a lot
closer to what one looks like than either Hammond Stadium's or
Tradition Field's. It's huge, and rather than being set apart in some
narrow booth, it's part of a giant suite of offices, kitchens and
conference rooms.  There are two really, really long rows of seats for
the reporters, but rather than a wall and a hallway behind the seats,
the room opens up to a large area of tables and counters where the
pregame lunch was going to be laid out and where reporters and
photographers sit, drank coffee and futz with their equipment.
Something
else was set up in there too: a press conference table.  No one knew
what it was for when I arrived there early yesterday morning, but word
soon spread that it was about Nomar's retirement.  I'll admit my first
thought upon learning that wasn't about Garciaparra's career. It was
about how interesting it was that, when big news hits the Red Sox, they
bring the news up to where the reporters are rather than make the
reporters go down to where the news is.
But it makes sense given
the sheer number of reporters covering this particular beat.  The Sox'
press corps. dwarfs that of the Mets. There are multiple newspapers and
multiple radio stations with credentials, and each has multiple writers
on assignment. Add in the smattering of Japanese media, the visiting
contingent of Rays' reporters and a handful of interlopers like me and
you've got quite a party.
I don't like being in the middle of a
room, so I made my way down to the far end of the box and set up shop
at one of the handful of spaces marked "visiting media."  As I set up
my laptop, an older gentleman came over and started setting up in the
only seat closer to the wall. Turns out it was Jonny Miller of WBZ
radio, who I ended up talking with all game long.
As I sat down he asked me where I was from. When I told him Columbus,
Ohio he rattled off a half dozen sportswriters he knew from Columbus at
one time or the other, most of which had moved on to that great press
box in the sky. Then he asked me if I knew who Dorothy Kilgallen was.
When I said I didn't know, he explained to me her role in the JFK assassination coverup. 
When I asked him who he thought shot Kennedy he said he didn't know who
pulled the trigger, but that he was pretty sure LBJ was behind it all. 
"Who became president?" Miller asked me rhetorically.  I'm 97% certain
he was messing with me to see if I'd tell him he was full of it. Not
that I cared. He's a fun guy and I enjoyed sitting next to him during
the game.
Not sure he'd say the same about me given something that happened
during the game, however, but I'll save that for a bit later.  In the
meantime, I had to get down to the field and walk around a bit.