As I walked down to the field I realized that the fates kept placing me at the park where the biggest news of the day was going down: Nathan's UCL on Tuesday and Nomar's retirement on Wednesday.  Upon realizing this I thought that I should charge the other writers $500 a head to hear where I'd be heading today so that they too could be where all the action was.  Then I was humbled:
"Hey! Where you headin'?"
The tone implied that I was not at the friendly Minnesota Twins' complex anymore.  Not that the person demanding to see my papers and to know my destination was unpleasant with me, exactly. Just far, far more businesslike than what I'd become used to the previous few days. This was all a part of that major league vibe I was talking about, at least compared to the other camps. Whereas at Port St. Lucie and Hammond Stadium you end up seeing the same three smiling employees over and over who quickly come to recognize you and generally leave you alone, City of Palms was crawling with employees checking credentials and making sure you never go where you're not supposed to go.  I dunno. Maybe they just do it with unfamiliar faces like mine. I mean, I'm guessing they don't constantly ask to see Amalie Benjamin's press pass.  Like I said before. I'm kind of an interloper everywhere I go this week.
But regardless of the reason, that vibe continued all morning. You can't get quite as close to the batting cages in Sox camp as you can elsewhere. You can't wander quite as far down the lines.  When you start taking pictures of stuff, someone starts watching you a little more closely.  Again, this isn't unfriendly or anything — it's not like anyone was ever rude to me — it was just much more, I dunno, formal.
Still, I did manage to wander a bit, and since I'm probably into the tens of thousands of words with these things thus far, how about a nice photo tour?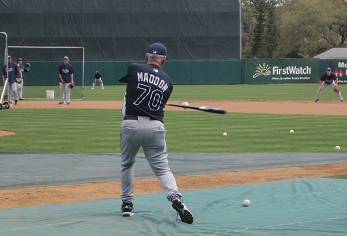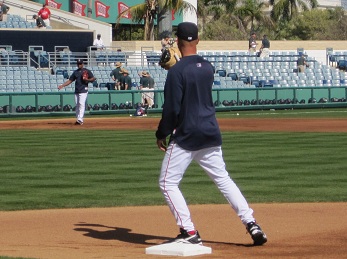 Unlike La Russa, who couldn't be bothered, Joe Maddon hit fungoes and Tito Francona played some first base during infield drills.  Hands on managing. I like it.  Know what else I like?  This machine: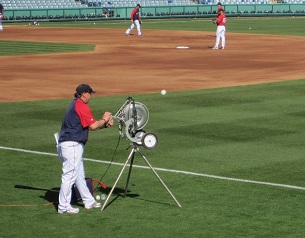 Just a pitching machine set on a higher trajectory for fly ball practice, but there is something immensely satisfying about the "clunk" noise it makes as it shoots each ball into space.  I'd like to get one of these for the home.  Query: would I catch more hell for bringing one of those things home, or two of these things?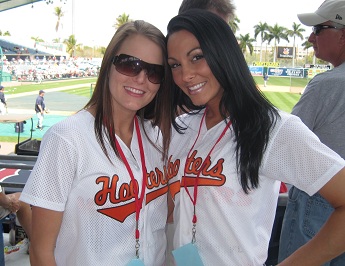 Yep, Hooters girls, wandering around giving out coupons by yelling "free beer!" to everyone.  This and any number of other promotional activities going on in the concourses are the sorts of things that led to that big league vibe I was talking about. I realize that every ballpark is essentially a giant marketing experience, but it's taken a bit farther at City of Palms. As too is the Super Fan thing: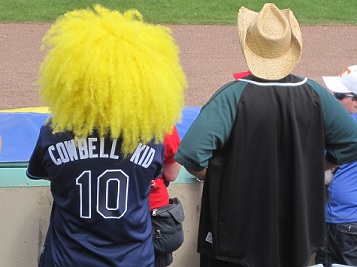 Yeah, this guy is a Rays fan, but there were Sox fans dressed up just as loopy.
And though it's hard to believe, neither the active managers, the Cowbell Kid, the fly ball machine nor the Hooters girls were the best thing about the pregame at City of Palms.  This was:
That's right: Lego Fenway Park.  When I get back to Ohio I'm heading straight to the Lego store to buy everything I'll need for Lego Tiger Stadium.  Then I'll be heading down to the basement for a while. If you don't hear from me in two weeks, forward my mail.