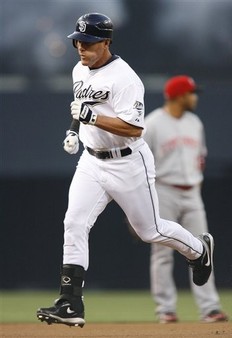 .315/.418/.614, 39 HR, 115 RBI
.315/.432/.594, 35 HR, 123 RBI
.309/.404/.590, 37 HR, 95 RBI
.298/.450/.622, 38 HR, 103 RBI
That was the four-season run Brian Giles had from the time he arrived in Pittsburgh in 1999 through 2002. Of course, it was a time of whopping numbers, so Giles never led the NL in a major category. He finished fifth, ninth, 10th and second in the NL in OPS those years, though. And all he had to show for it was two All-Star appearances and a high finish of 13th in the MVP balloting, that coming in 2002.
A 17th-round pick of the Indians in 1989, Giles had the misfortune of trying to climb his way through one of the games most stocked organizations during the early-to-mid-90s. It certainly didn't help matters that he didn't hit for power in the low minors. He had a breakthrough season in Double-A in 1993, hitting .327/.409/.452. A similar year followed in Triple-A in 1994, but the Indians didn't have any room for him. He ended up posting OPSs of 869, 896 and 989 while spending most of three seasons in Triple-A. The Indians found a role for him in 1997, and he hit a respectable .268/.368/.459 in 377 at-bats that year and .269/.396/.460 in 350 at-bats in 1998. But rather than commit to him as a full-time player, the Indians, helped by John Hart at the time, instead traded him to the Pirates for left-handed reliever Ricardo Rincon that November.
Giles was an instant star in Pittsburgh, at least on the field. His 115 RBI in 1999 was the high total for a Pirate since Barry Bonds had 116 in 1991. He became the first Pirate to turn in back-to-back .300-30-100 seasons. His first four seasons rank fifth, eighth, 10th and 15th on the team's all-time list for OPS. He ended up spending 5 1/2 years in Pittsburgh before being traded to the Padres for Jason Bay and Oliver Perez, something else that paid off big for the franchise. He currently ranks as the franchise's all-time leader in OPS at 1018, topping Ralph Kiner at 971.
With Petco Park taking a heavy toll, Giles stopped putting up superstar numbers upon arriving in San Diego in 2003. Still, he was an outstanding player in 2005, when he hit .301/.423/.483 and finished a career-best ninth in the MVP balloting. He also excelled as a 37-year-old in 2008, hitting .306/.398/.456 in 559 at-bats. Unfortunately, he fell apart all at once last year. He hit just .191/.277/.271 in 253 at-bats before the Padres essentially told him to take the rest of the season off. Still hampered by physical problems this spring, he chose to retire Thursday rather than carry on with a long shot bid to make the Dodgers.
Unfortunately, while Giles was very clearly one of the NL's best players for a time, he was never recognized as such. His big seasons in Pittsburgh came for sub-.500 teams that got no attention at all. He went to the postseason twice with the Padres, but he failed to excel in the spotlight. He went 7-for-27 with just two RBI as the Padres lost back-to-back NL Divisional Series to the Cardinals in 2005 and '06. In all, he was a career .208/.311/.286 hitter in 77 postseason at-bats, most of them coming in Cleveland before he had really established himself.
I certainly don't expect any sympathy for Giles. He made more than $80 million over the course of his career. I suspect that both he and his younger brother Marcus abused performance-enhancing drugs at various points of their careers, though there's no evidence that Brian ever failed a drug test. Giles was also accused of domestic violence and sued for $10 million by a longtime partner, and while we have no way of knowing the truth behind her stories, there's a pretty damning video still floating around that appears to show Giles beating the woman in a bar.
But on the field, Giles was a true star for a time, one who put a bunch of wins on the board for some otherwise lousy or mediocre teams. He ranks with Bobby Abreu, Robin Ventura and Mike Cameron among the game's most underrated players of the last 20 years. He finishes his career with an outstanding .291/.400/.502 line and 287 homers. His 902 OPS ranks 64th all-time among players with at least 3,000 plate appearances. He's not nearly a Hall of Famer given his late start and lack of defensive value, but he did play like one when he was at his best.