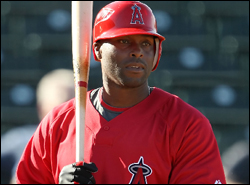 Torii Hunter has released a statement on his website. I won't reproduce the whole thing here — it's long and you should read it in its entirety in its context — but this is the part that I consider to be most significant:
We all come from different places and backgrounds. Coming from Pine
Bluff, Ark., my hometown, is no different than being a kid from San
Pedro de Macoris in the Dominican Republic. We all share the common
bond of a love of baseball, and it pulls us together on the field and
in the clubhouse.

What troubles me most was the word "impostors" appearing in
reference to Latin American players not being black players. It was the
wrong word choice, and it definitely doesn't accurately reflect how I
feel and who I am.

What I meant was they're not black players; they're Latin American
players. There is a difference culturally. But on the field, we're all
brothers, no matter where we come from, and that's something I've
always taken pride in: treating everybody the same, whether he's a
superstar or a young kid breaking into the game. Where he was born and
raised makes no difference.
Despite the conversations about racial identity that have sprung up in the comments, the original reason I posted this morning was not to open that can of worms. Rather, it was because I thought Hunter's use of the term "impostors" and "imitator" was completely out of line. I don't think anyone in baseball is trying to pass themselves as anything other than a ballplayer, and suggesting as much is an insult to Latin American players who didn't get where they are by pretending to be anything other than what they are. Well, and sometimes pretending to be younger versions of themselves, but that's another conversation.
Anyway, unless the USA Today reporter seriously misquoted Hunter, I view the above statement as more of a retreat than a clarification — and the passive voice regarding the word impostor "appearing" in his statement is a bit telling — but that's fine. We all say dumb things sometimes, and we should all be allowed to get a mulligan. Hunter's a good guy and he deserves a mulligan too.
Still, I have to note that something is absent from Hunter's statement, and that's anything relating to the other part of his comments in USA Today with which I had a problem: his theory — he actually said "we have a theory," apparently referring to U.S.-born blacks — that Major League Baseball has an active agenda to overlook U.S. born blacks in favor of foreign born players. Unless Hunter (or anyone else) has some evidence for such an agenda on the part of Major League Baseball, I think it's a pretty irresponsible charge. Frankly, I'm rather surprised Hunter didn't address it here.
At any rate, that appears to be that. Unless someone decides it isn't that, at which point I'll write something else that will rile everyone up again.