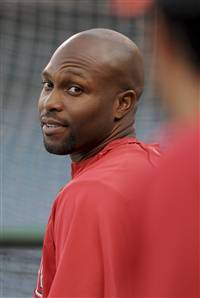 The Los Angeles Times caught up with Torii Hunter today and got his comments about his outrageous comments in this morning's USA Today.  Short version: Hunter is pissed off:
Hunter, who directs much of his charitable efforts to the
development of inner-city baseball, claimed his comments "were
distorted and taken out of context."

"I'm not apologizing because I didn't say anything like that,"
Hunter said before Wednesday's exhibition game against Cincinnati. "I'm
[ticked] right now. I'm upset. And people wonder why athletes don't
talk to the media that much. It's stupid.

"That wasn't even the main topic of the discussion. That was like a
piece of the conversation, .5% of 100%. The main topic was that there
are no scholarships for baseball. … It wasn't a negative story. It
was a positive story. I try to get a lot of inner-city kids to play the
game. I've done the research. That's why I have all the programs."
I guess the real question is whether Hunter is mad because the quotes are not accurate or if the quotes are accurate but he is simply mad at how he was portrayed in the article.  I get this feeling we'll be hearing more about this soon enough.