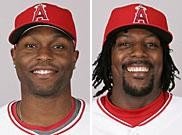 USA Today continues its five-part round table on improving the game,
and today they take on a monster: race.  Torii Hunter throws a big
freakin' bomb:
 
Fans look down from their seats onto the
baseball field, see dark-colored skin and might assume they are
African-American players. But increasingly, the players instead hail
from the Dominican Republic, Puerto Rico or Venezuela.

"People
see dark faces out there, and the perception is that they're African
American," Los Angeles Angels center fielder Torii Hunter says.
"They're not us. They're impostors.

"Even people I know come up
and say, 'Hey, what color is Vladimir Guerrero? Is he a black player?'
I say, 'Come on, he's Dominican. He's not black.' "

"As
African-American players, we have a theory
that baseball can go get an imitator and pass them off as us," Hunter
says. "It's like they had to get some kind of dark faces, so they go to
the Dominican or Venezuela because you can get them cheaper. It's like,
'Why should I get this kid from the South Side of Chicago and have
Scott Boras represent him and pay him $5 million when you can get a
Dominican guy for a bag of chips?'

"I'm telling you, it's sad."
I
have great respect for Torii, and I wouldn't deign to know more about
race and baseball than he does, but this statement is 100%
unadulterated bullcrap.  I covered this topic three years ago, and it
was the first post I ever wrote that gained any attention by anyone.
The point still stands, however, so I'll more or less quote myself:
The notion that the number of U.S.-born black players in
Major League Baseball has declined is manifest.  There are any number
of reasons for this, not the least of which is that U.S.-born black
kids are more likely to play
basketball or football than baseball these days. As a baseball nut this
bugs me because there are likely a dozen black kids playing second
string safety in the SEC or someplace who could have
been ten times the ballplayer than many of the guys on your team's
roster. Indeed, if only a handful of black athletes chose to
play baseball instead of basketball or football guys like Mike Jacobs
would be working at a Jiffy Lube right now, and no one would be upset
about that except for some Jiffy Lube manager.  I'm greedy: I want all
the best athletes playing baseball and I'm bummed when they don't.
But this notion that today's diversity in baseball is some sort of sham
and that black Dominican players are "impostors" is beyond repugnant.
No, they're not from the U.S., but if Jose Reyes and Vladimir Guerrero
aren't black, I'm not sure anyone is.
The fact that more and more of
baseball's black players happen to come from a couple hundred miles
south of an artificial political border doesn't mean that there is no
one around to receive the torch passed down from Jackie Robinson, nor
does the fact that baseball has spent millions to develop Latin
American talent mean that the sport has turned its back on U.S.-born
blacks.  And while, like Hunter, I'd like to see more U.S. blacks
playing the game, to suggest, as he does, that Major League Baseball
has some plot to overlook them in favor of international players is
plain dumb. If anything baseball would love to have it the opposite
way. After all, U.S.-born blacks are subject to the draft and can be
paid peanuts for years. Dominican or Venezuelan players get big signing
bonuses. At least the good ones do.
Hunter's comments speak to our nation's profound immaturity when it
comes to race. A mindset that makes rigid and often artificial census
categories like "black" and "Hispanic" take on much more significance
than is warranted and causes us to lose sight of what's really
important.  What's important in my view? The big picture: baseball is a
truly
international, multi-ethnic game in ways that, say, American football
will never be, and that if there's a meritocracy anywhere in this
country, it's in professional sports.
Like Hunter I'd love to see more U.S. blacks in the game and strongly
support and encourage baseball's efforts to make that happen.  But
claiming that the diversity baseball has successfully cultivated
is somehow illegitimate or phony is simply pathetic