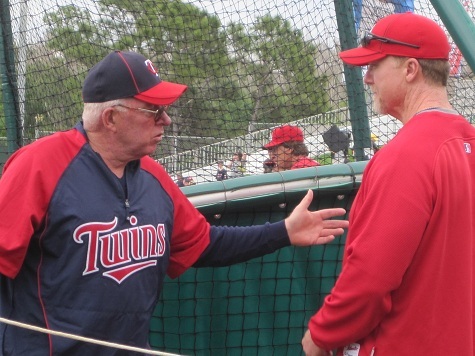 "I'm tellin' ya, Mac. If you simply do what I did and say boring things all the time, those pesky reporters would leave ya alone. Now, what say you and me go beat up Gardenhire so I can get my team back?"
I may have gotten that quote wrong. Can't find my notes. A pity, really.
After the Nathan news I decided to just walk around and see what I could see. As evidenced by the above pic, Tom Kelly talking to Mark McGwire is one of the first things I saw.  Nothing particularly interesting was exchanged, but it seemed like a good photo to take.
The Cardinals took batting practice right after that, with Big Mac standing behind the cage, just a couple of feet in front of me.  I studied the subject for a while. He seemed to talk like a normal person, giving some instruction to the batter in the cage. He sneezed once, which suggests even more human traits. At one point he checked his watch, which suggests that he's concerned of matters temporal, while most monsters tend not to be.  It was almost enough to make me think that everything I've been reading about the man was wrong.  I risked speaking to him:
"Hey Mac, what are the biggest differences between spring training as a player and spring training as a coach in terms of routines, preparation, things like that," I asked.
"Well," McGwire started, not taking his eyes off the hitters, "the biggest thing is I don't have to do it."
Do it?  What could he mean? Shoot steroids?!  Freebase the bone marrow of infants?!
"Train. A lot less physical stuff, that's for sure." McGwire chuckled.
After that, the guy hitting fungoes asked La Russa — who was standing nearby — if he'd hit them for a while. La Russa said he had to do something else so the other guy kept hitting.  I asked McGwire why they don't ask him to do it.  He said "the guys say I hit 'em too hard."
It was at that moment that I decided that Mark McGwire is just a plain old hitting coach. Just as I couldn't think of anything particularly interesting to ask, say, Howard Johnson or Don Baylor, I can't think of much interesting I'd ask Mark McGwire.  Nor do I think he'd say anything all that interesting even if I could think of a good question.  McGwire was an interesting diversion for a couple of cold, news-barren months.  Now he's just a coach. No more, no less.
I left the field and made a slow walk to the press box.  I passed a brick wall with the National Professional Scouts Hall of Fame on it.  It wasn't the most impressive Hall of Fame I've ever seen, but I'm sure the enshrinees' mothers are proud. All four of them.
Back upstairs I sat down and watched the grounds crew clean up the divots and detritus of a morning's worth of BP and infield practice and prepare the field for the ballgame.  If there's anything more aesthetically satisfying than watching fresh chalk lines get laid down, I'm not sure what it is.