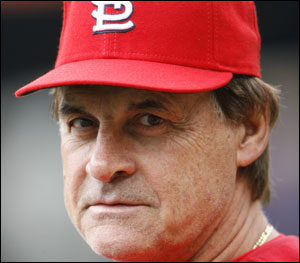 Seeing as though I spent some time in the Twins' clubhouse that morning, I figured I'd spend the postgame with St. Louis.  Helping me make this decision was the fact that MLB.com's Matthew Leach and the St. Louis Post-Dispatch's Derrick Goold are two of my favorite writers going, and I wanted to tag along and them do what they do.  Finally, given how much ink I've spilled over Tony La Russa in the past, I figured he might be fun to watch do the little postgame thing, so it was off to the visitors clubhouse.
La Russa was showering, so we were kept out of his office for a few minutes, and instead waited in the main area of the clubhouse. Same basic scene as the Nats the other day: boxes of pizza and lots of dudes in their underwear. A little less morose than the Nats' clubhouse, probably because the Cardinals are a generally successful team and, unlike the Nats, realize that they will, in fact, win a game at some point soon.  Biggest takeaway while we waited: Colby Rasmus has the same laptop bag I have.
After a few minutes we were ushered into LaRussaLand. La Russa was asked what he thought about Adam Wainwright's tough outing. He wasn't worried, he said, stuff happens.  On a followup, one of the reporters informed La Russa that Wainwright had said earlier that his problems weren't physical. Rather, he just wasn't mentally prepared for the game. This got La Russa a bit pissed. He said that was "not acceptable," and that "Adam knows better than that."  I think he was really mad. And poor old Wainwright was gonna skate on it until the sporting press ratted him out.  Tough break.
More interesting than anything La Russa said, however, was how he said it. He's a lawyer by training, and it shows.  He parses every word of every question to make narrow distinctions between what is being asked and what he wants to answer. If someone premises or qualifies a question, he pounces on the premise or qualification to, again, answer what he wants to answer instead of what was asked or, in some cases, to deflect the question entirely.
And it doesn't matter if everyone knows what the reporter is truly wanting to know, which I'm sure a man as smart as La Russa can tell. It's not some Socratic exercise in which he's trying to get the reporter to ask the right question in as specific terms as possible. It's a word game, not unlike the kind of stuff I used to see — and do — in depositions where the defending attorney will try anything he can to thwart the purpose of the exercise — the extraction of information — and instead just try to vamp until it's over.
It's not so clumsy and transparent in La Russa's case as it is in some normal lawyer's case. He's a much more seasoned pro with much more experience in his particular arena — postgame interviews — than any lawyer has experience defending depositions. Indeed, his tactics are quite subtle and maybe even invisible to La Russa himself. After all, law school changes the way a person thinks, more so than he realizes, and I'm sure La Russa's interview m.o. is so ingrained in him that, to the extent there was ever any calculation involved, it's long been replaced by reflexes alone.
But this lawyer recognizes it. And though La Russa's particular brand of circumlocution may ultimately have the same deflecting effect of "we just gotta take 'em one game at a time"-style cliches, it's decidedly more hostile and, in my personal opinion, distasteful.  Though he's probably the best manager in my lifetime, I've never thought that highly of Tony La Russa the man, and after observing what I observed today, I am less impressed with him than I ever was before.
The gang bang broke up and I left the clubhouse and sat by the dancing waters outside of Hammond Stadium for a spell. As I watched the traffic dissipate, I wondered about the whole process of reporters collecting ballplayer and manager quotes, whether they matter and whether there isn't a better way to present the game of baseball to readers who thirst for information about their favorite sport, their favorite players and their favorite teams.
I have a few ideas along those lines, but they're only half-baked at the moment.  It's something I'm going to think about a lot in the near future, however.  By midseason the ideas will have either ceased to interest me or will have coalesced into a scathing manifesto.  I don't think there will be any middle ground.