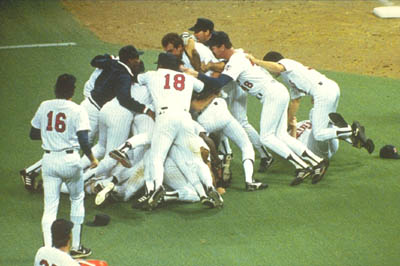 The game itself was your standard spring training affair (I decided to go with a more inspiring pic).  Shaky pitching, shaky defense and a lot of guys you've never heard of in the late innings. Unlike the Mets-Nats game on Sunday, there weren't a ton of exciting prospects on either team to look forward to, so I just sort of let the game wash over me.  Random observations:
Because veterans like Albert Pujols don't hump it across Florida for spring training road games — especially when they have a bad back — Joe Mather got the start at first base. I had a really, really strong urge to go up to him in the clubhouse afterwards, pull a Borat and ask him (in a foreign accent) if he thought he had a good shot at winning the starting job to break camp;
Colby Rasmus started the game with three strikeouts and a homer and came to bat late with a chance to make a full house. Sadly, he grounded out 6-3, robbing us of a truly fantastic batting line;
The National Anthem singer was out sick with laryngitis (seriously) so they played a tape of an instrumental version of the song and had the crowd sing it.  At first I was impressed. You don't hear that everyday and, really, when you get 8,000+ people singing in unison it kind of works out.  By the time we got to the "Oh say does that Star Spangled" windup I was starting to get creeped out by the "Triumph of Will" vibe to it;
Heading into the top of the third, Orlando Hudson and
Justin Morneau run out to the field together. Hudson avoided the chalk line, hopping over it. Morneau stepped right on it.  I can only assume that Morneau will be crushed by a falling anvil at some point this season for taunting the Baseball Gods;
Tony La Russa (a) held a really long mound meeting; and (b) made a pitching change in the middle of the inning. I know the guy can't help himself, but maybe someone should tell him that he chairs a committee designed to do away with such game-lengthening conduct;
They announced that yesterday's crowd — 8,228 souls — was the largest in Twins spring training history.  Worth noting, however, that there were tons of Cards' fans at the game. So much so that when the crowd sang "Take me out to the ballgame," the words "root, root, root for the Cardinals" were unmistakable.  Twins fans: you got pwned in your own park;
Great moments in pinch running history:

Delmon Young hit
a triple and was replaced at third by Nimitz-class first baseman Brock
Peterson. I'm guessing Peterson — the kind of guy who I'm guessing has been described as "hulking"

at some point in his life — doesn't get much pinch running duty;
The next inning

someone — I think it was Matt Tolbert; I probably need to start keeping better score — pinch ran for Nick Punto, and scored a run while executing a wholly unnecessary slide into home plate (the ball was somewhere north of Orlando at the time). It was like he was screaming "look
how great a pinch runner I am!"
In the sixth inning the PA played "YMCA." In the seventh — in addition to "Take me out to the ballgame," they played "Sweet Caroline."  Between that and the Jimmy Buffet and James Blunt songs they played before the game I was thinking of taking a hostage;
At some point late in the game La Russa lost his
DH when he moved him to second base. Query: was it a mistake, was it simply one of those things you don't care about in spring training or — and this is my guess — was Tony "the genius" La Russa trying out a bold new strategy for interleague games? Stupid? Stupid, you say?  This is Tony. La. Russa.  He saw you at the paddock before the second race outside the men's room
before he placed his bet. He saw you before you got up this morning.
The game ended on a pickoff at first base. 7-6 Minnesota, though it's hard to care about the results of a spring training game.
If you read Monday's installments you know what came next. That's right, babies: gangbang.