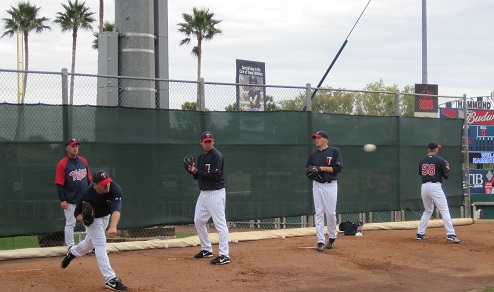 I woke up bright and early, had the worst cup of coffee you'll ever get
in the lobby of a major chain hotel, stopped at a 7-11 to get a better
cup of coffee and then headed to the ballpark. Why a 7-11? Because the
entire State of Florida appears to consist of densely-landscaped eight
lane thoroughfares lined with strip malls that are almost, but not
entirely impossible to enter after you realize that there might be
something worth entering them for. Like, say, a Starbucks.  When I
tried to get the GPS in my car to find me a better coffee place than
the 7-11 it wept and then committed suicide.
To the ballpark.  Allow me to say that the folks who work for the
Twins at Hammond Stadium are the nicest people on the planet.  I get
lost a lot whenever they let me out of my mother's basement, and each
time I got lost, someone in a blue shirt kindly showed me where I
needed to be.  One of the guys working on the press level — Art — was
particularly nice. Turns out Art lived in Columbus for several years
where, among other things, he coached Paul O'Neill when he played high
school baseball.  Art and I chatted about Ohio a bit and then I was off to the Twins'
clubhouse, where Dustin the media guy told me I might want to be for A
Big Announcement.
"You signed Mauer?" I asked.
"Um, no," Dustin replied.
"I think you should wait until Opening Day in the new park, then
announce you've signed him right after the National Anthem. The place
will go nuts!" I offered, quite proud of myself for thinking of
something so clever.
"Say, that's . . . that's an . . . interesting idea," Dustin replied, scanning my eyes for signs of The Crazy. "I think I'll mention it to Bill next time I talk to him."
I sure hope he gives me credit!
I made it downstairs and, because I'm me, I couldn't find the
clubhouse entrance.  A nice man in a blue shirt named Richard (the man, not the
shirt) pointed the way, telling me to "Look for Dominic. He's working
the clubhouse door." We had joked a bit when I first walked up to him,
so I left joking "I'll tell Dominic you said it was OK if brought out a
couple of jerseys and bats and things for my kids." Richard said "don't do that, or
I'll have to kiss the ring twice."
I didn't know what he meant until I met Dominic, the older, bespectacled
but undoubtedly formidable gentleman who signed me in to the clubhouse.
I made a similar joke with him about stealing stuff, and Dominic calmly,
but a tad too seriously for my tastes, said "You look like a nice boy. I'd hate to
have to break your legs."  I'm going to go out on a limb here and say
that Dominic has lived a colorful life.
Once inside I waited with some other reporters in for The Big News
about Joe Nathan. In hindsight I wonder if the whole team knew it yet,
because the mood was pretty upbeat. Twins players had just been given a
copy of the team media guide. Jon Rauch — whose neck tattoos and sheer
height are much more impressive in person than on TV — was walking
around and bragging to everyone that he had two career hits ("says so
right here!").  Gardenhire walked by at this point and Rauch said "hey
Ron, I have TWO career hits!" with a big dumb smile on his face.
Gardenhire — channeling Lou Brown — kept walking and grumbled "well, good for you."
We'd soon learn that Gardenhire had other things on his mind.  I wonder
if one of those things was figuring out if Rauch's hitting prowess was
worth wasting in the closer's role.