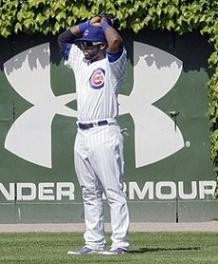 For a guy wanting to put Chicago in his rear view mirror, Milton Bradley keeps looking back.  In an interview with ESPN, Bradley says that his time in the Windy City "was pretty bad," and that he "would have rather tore my knee up and gone
through rehab all over again then have to deal with that."
He also expands on his dustup with Lou Piniella in which Lou called Bradley a "piece of s—."  Bradley:
"The next day, he called me into his office and wanted to apologize. I felt you put me on blast, called me out in front of
everybody, you're going to apologize in front of everybody. He
didn't choose to go that route, but I accepted his apology nonetheless,
because as a Christian that's what you do. I don't have time to hold
grudges against people, I've got enough stuff I've got to deal with."
Much of the rest of the piece is about racist jeers he received and/or perceived while in Chicago.  He's been remarkably consistent in talking about this since last year, so I'm going to give him the benefit of the doubt on it and assume he's telling the truth (it's an ugly world, kids).  But at the same time, you'd hope that a guy in Bradley's position would try and find a way and blow that kind of garbage off.  But he can't. Bradley is often called "combustible," but I think his biggest problem is that he's one of the most overly-sensitive guys to ever play the game.  Even if that which he has experienced is unacceptable, it's also not unprecedented, and there are few if any players who have reacted to slights both real and perceived as poorly as Milton Bradley has.
But this may be the worst part of it all:
Bradley said it became so uncomfortable that he rarely left his home. "I was a prisoner in my own home," he said. "I pretty much stayed at home, ordered in every day, never went anywhere."
My God. Things got so bad for Milton Bradley last year he became a blogger.