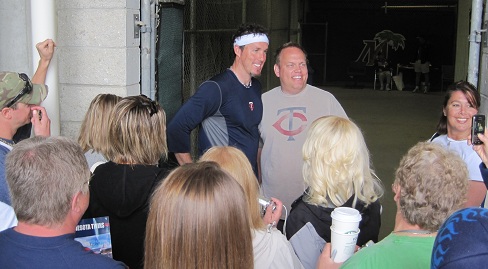 If I just found out that my season is likely over and my career was in jeopardy I'd probably kick the wall and not really want to talk to anyone.  Which is just one of approximately 1,325 reasons I'm not Joe Nathan. 
This morning he was the only one in Gardenhire's office — media included — who had a stiff upper lip about the UCL news.  Then, as you can see above, he stood at the clubhouse entrance and signed autographs and stuff for a long, long time, never dropping the smile and returning every "hang in there, Joe" with a "thank you."
I suppose some of you would say that for $11.5 million or whatever it is he's making this year he should be expected to act this way, but I don't buy the money-makes-all-the-difference line. Ballplayers are human and they want to compete. When they can't, the have every right to be bummed about it, and usually are. 
Whatever the case, I'm really impressed with Joe Nathan today, and though I'm not a Twins fan, I really want to see him bounce back from this setback.