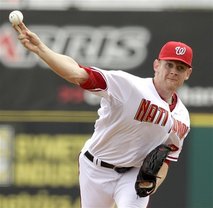 It's the obvious question following Stephen Strasburg's debut on Tuesday. And, for now, manager Jim Riggleman is sticking pretty close to a "never say never" approach:
"The consensus of this organization, top to bottom, is that the plan is
to start him in the minor leagues," said his manager, Jim Riggleman.
"But I'm not saying that — because we might eat those words. So we're
leaving that open, in case something unforeseen changes our mind."
The Nationals have been conservative about Strasburg's ETA, but even Mark Zuckerman of Nats Insider has picked up on Riggleman's change of tone:
So the question had to be asked again this afternoon: Is Strasburg
competing for a spot in the Opening Day rotation. Jim Riggleman's answer
was slightly tweaked from previous ones.

"We'll make a decision
about whether he's on the ballclub or not," the manager said. "But I
think in his mind, he's doing the right thing. He's just competing to
get hitters out, and if that puts him on the ballclub, that would be his
wish I'm sure. I guess indirectly, he is competing for a spot on the
club in his mind. We'll make that call as an organization. But as far as
he knows, he's like everybody else trying to make the club."

No
talk of "respecting the process." No "unlikely" qualifiers. No firm
answer one way or the other.
Maybe it's the increased focus on youth in this game, but with Strasburg, Aroldis Chapman and Jason Heyward, I can't remember a time where we had three more promising young players in spring training with legitimate chances to contribute in the major leagues right away. It's a great time to be a baseball fan, regardless of your rooting interest.