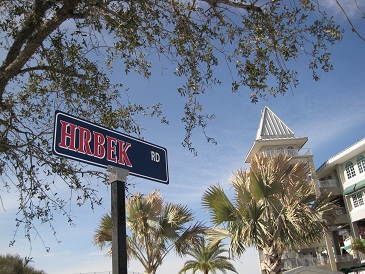 Pro tip: when the GPS in your car tells you to take a boring interstate and the map in your hand shows you a nice, winding rural route, follow the map every time. Interstates are death.
The trip across the state to Fort Myers was a lot of fun. No traffic, nice weather, a big lake and lots of ranches where cattle grazed amongst palm trees. I stopped and had lunch at some little roadside joint with a sign that said "best food in Okeechobee County." I didn't ask if it was the only food in Okeechobee County. That would have been rude.  Good burger, though.
I made it to Fort Myers mid-afternoon, checked into my hotel and decided to run by Hammond Stadium — spring training home of the Twins — to pick up my media credentials for today's game. The place was mostly empty — the Twins were up in Sarasota playing the Orioles — but the gate was open so I drove on in to what may be the most beautiful ballpark parking lot I've ever seen.  There's a grassy mall lined with palm trees leading to the main gate, with nicely landscaped parking rows on either side. Each row has a street sign, naming it after a Twins great.  As you can see from the pic, I parked on Hrbek Road.  Strangest thing happened though: when I thought I was safely parked, a big dude came over and wrestled me off my space. Cop standing nearby didn't do anything about it. Huh.
I walked into the empty ballpark and wandered around a bit.  Port St. Lucie and Tradition Field remind me of an office park. Hammond Stadium screams spring training. It's really a beautiful place. There's the landscaping, sure, but the facade has this Churchill Downs thing going which walks that line between cheesy and quaint that characterizes all good minor league ballparks.  Inside some men were attending to the infield while the outfield grass was being watered. I sat down on a seat near the third base dugout for a bit, smelling the grass, enjoying the sun and thanking the fates that I get paid to do this.
After a few minutes of bliss I found an elevator which led to the Twins' offices. It was mostly empty, but a fellow named Dustin Morse was still working. My credential had already been sent down to will call, it seems, and will call was closed for the day, but Dustin was nice enough to fill out a new one for me so I could get to the ballpark early this morning before the ticket booth opened up. After that he gave me the lay of the land at Hammond and patiently answered my questions despite the fact that he probably had 100 more important things to be doing. Great guy, Dustin. And friendly with the sabermetric media too!
I left Hammond, and decided to take a drive down to the beaches, which were emptying out for the day. I met three baseball fans walking along the beach. The first two were a young couple wearing Cardinals' t-shirts. I chatted with them a bit. They're from central Illinois and are down here to follow the Cards around (they had been to the Red Sox-Cards game here in Fort Myers that afternoon).  Seems they come to spring training every year. It's the wife's obsession more than the husbands, they said. I'm a happily married man and I'm not violent by nature, but I'd be lying if I said I didn't have thoughts of bumping the dude off and taking his woman to be my bride.
I met the second one in the parking lot near the beach when I decided to play good samaritan and gave him my little pre-paid parking ticket that still had some time left on it so he wouldn't have to buy one of his own.  I had on a Giants' t-shirt and he said "your giving me this may make me have to rethink Giants' fans."  I told him I wasn't a Giants fan. I just liked the shirt.  He said he was relieved to hear that, because he really doesn't want to have to start liking Giants fans, what with him being a Dodgers guy.  And no, he's not happy that the Dodgers train in Arizona now.
Back to the ballpark first thing this morning. Twins vs. Cardinals at 1:05 PM.  I'll be checking in throughout the day. Also if you're on Twitter, follow me at @craigcalcaterra. I have a tendency to bring the snark during games if that's your bag.