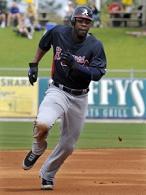 Jason Heyward continues to defy superlatives.
In the first inning of this afternoon's game against the Tigers, Heyward battled Max Scherzer from 0-2 to a full count only to launch an epic two-run blast. How mammoth was it, you ask? The ball hit the metal roof that covers the batting cages beyond the right field wall in Lakeland. So I'm guessing somewhere around 600 feet. You know, conservative estimate.
Here's Tim Hudson, as quoted by David O'Brien of the Atlanta Journal-Constitution:

"He goes and puts one in the trees out there. I mean, it just adds to the legend."
Heyward finished the day 1-for-2 with a walk. He's a cool 5-for-12 (.417) with five walks in his first 18 plate appearances. Getting excited about small samples sizes would be silly, but including a hit-by-pitch (thanks KLB!) that's a .611 on-base percentage, folks! I suppose I'm going to have to get used to the Mets pitching around him for about the next 15 years.