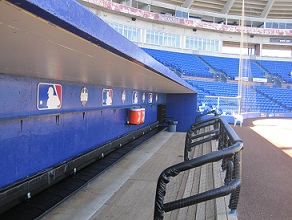 Ever been to a gang bang? I hadn't until yesterday.  What is it? It's what beat writers call it when five or six of them gather around a single interview subject, usually in the locker room and just fire the questions.  My first gang bang was with Jim Riggleman after the game.  A most peculiar beast.  But I should back up.
Once the game ended, my buddy Knox and I looked at each other and almost simultaneously said "well, what are we supposed to do now?"  I'd been in and out of the Mets clubhouse earlier that day, but there weren't a lot of people hanging around and there was far more interesting stuff happening elsewhere. What's the etiquette for the postgame?  Realizing we were total newbies, Knox and I decided to simply follow the other dudes leaving the press box and do what they did.
Our little procession took the elevator down to the main level, and then walked around to the other side of the stadium, past security through a nondescript gate and into the Nats' clubhouse. Which probably shouldn't have been surprising given that the group included the Washington Post's Adam Kilgore (nice guy!) and MLB.com's Nats beat writer Bill Ladson (didn't say much, but he tweets about liking Otis Redding, and that makes him OK in my book).  I was actually happy we were going to the Nats side of the place because I hadn't been in there earlier.
Our group — led by the Nats media guy, who apparently did make the trip after all, and never once said anything about me sitting in a press box seat reserved for him — went back to manager Jim Riggleman's office. Riggleman talked about the Santos grand slam, explaining that Taveras didn't simply throw his hands up and say the ball was stuck in the fence because he thought the umpire had already seen the ball and ruled it was in play, mooting any appeal. Turns out that the moment Taveras tried to pick up the ball is when the ump truly ruled, figuring that since Taveras didn't throw his hands up, the ball was playable.  Hard call. Taveras' instincts understandably took over, and you'd think the ump would be a bit more vocal about where things stood.  Baseball, she is tough game.
Beyond that there was nothing enlightening. Riggleman thought Marquis was just fine despite walking everyone, essentially saying it was spring training and all he cared about was the guy getting work.  No argument there.  He was asked if Ian Desmond — who once again looked great — has a chance to break camp with the club. Riggleman said "we have to wait and see."  Other than the Santos inside-the-parker there wasn't a question asked that everyone didn't already know the answer too, and not a question that seemed all that interesting to ask sprung to mind.
This continued as the Riggleman gang bang broke up and the reporters filtered out to the clubhouse, where we were met with a dozen or so Nats players in their underwear (at most) eating pizza and looking tired after a long game.  It struck me at that moment that the last thing any of these guys wanted to do was to answer media questions. They just wanted to eat their pizza, shower up, get on the bus and head back to Viera.  I felt like I was imposing, even if I had a right to be there.
It also struck me at that moment that, no matter what I've ever said about beat writers in the past, they have the hardest jobs in sports. Unlike opinion writers like me, they're all expected to extract something — anything — interesting from the underwear and pizza crowd. And like me, they know 99% of the answers to the questions that are going to get asked before they ask them (and really, the mood of a postgame clubhouse just isn't right for off-the-wall questions; too businesslike).
Yet they have to ask them because they have to write a game story. And unlike me, who has the luxury of chewing on some answers for 12 hours to see if I can't gain some odd insight to them, the beat guys are all on a hard deadline. They need to bang out the copy, make it good, and start all over again tomorrow.  I said earlier this morning that writing about baseball is the best job going. And it probably is. But I could see, in that clubhouse, how it could quickly become a grind.  We love our baseball. We love to watch our players. But the time and manner in which the media is expected to talk to them and learn from them is limiting in the extreme.  All of it gave me a new found respect and sympathy for the beat writer. They have a much, much harder job than you can imagine.
After a quick walk through the clubhouse Knox and I left, our work basically done for the day.  I went back to my hotel to write a bit, then grabbed a sandwich and a beer at a big silly sports bar near the ballpark.  David Wright was in there, as well as a few of his teammates whose names I couldn't put with their faces (it's a lot harder to tell who's who when they're not in uniform). The people at the surrounding tables kept gawking at the group, and many stopped by to say a word or two or to get an autograph. Wright was friendly and pleasant with all of them, despite the fact that he was simply trying to eat some dinner.
After my sandwich I walked next door to a movie theater and watched "Shutter Island."  It was a good, weird movie. But not as weird as the fact that Oliver Stone has apparently made a sequel to "Wall Street," the trailer for which I saw.
And not as good — not by damn sight — as a day at the ballpark.