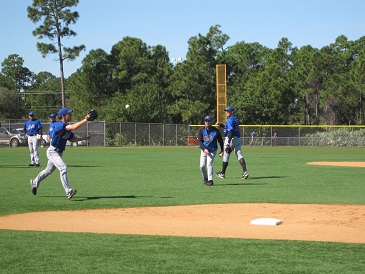 Sunday was spent at Tradition Field for the Mets-Nationals game. There's so much more going on than just a game, however, so why don't we run it down.  Lots of bite-sized observations, so this will be in multiple parts throughout the day.
I arrived at the ballpark early, hoping to get my bearings before it got too crowded. As I pulled into the parking lot and approached a woman in a Mets jacket to ask her where I could park she started yelling at me: "MOVE TO THE SIDE! MOVE TO THE SIDE!  THERE'S A PLAYER COMING!"  Sure enough, a player in a Chrysler 300 was behind me — no idea who it was, to be honest — and apparently players aren't expected to have to deal with traffic.  Once the player passed the lady was nice enough to tell me where to.  Again.
I got my media credentials and started wandering. First stop: indoor batting cages. After seeing Bay and Francoeur hit, first base prospect Ike Davis stepped in. He's quite tall and hits the ball really, really hard.  He stepped out of the cage and onto the walkway near where I was standing. As Nick Evans started taking his hacks, Davis took a couple of swings. He was nowhere close to hitting me, but because I'm a nervous newbie not used to gigantic people swinging bats in my vicinity, I flinched noticeably. Davis stifled a laugh and said "Don't worry. I'm a professional."
Past the batting cages are the back fields where players drill and a big grassy common area where fans can watch the action.  There weren't too many people there yet. I asked a security guard if this was a typical crowd for a Sunday morning. He said "yeah, it's uush-ally smawler on Sunday until around noon. You know. Choich."  Probably worth noting that just about every employee at Tradition Field is a New Yorker.
I watched pitcher's fielding practice for about ten minutes.  It's kind of hypnotic. One after the other, faking a pitch, turning and running towards first, fielding the coach's throw and then jogging to the back of the line again. After a while I started making a game of it in my mind, trying to see who was the fastest to first and who was the slowest. Bobby Parnell was pretty quick. Eric Neisen, as you can see in the pic above, was catching the throw farther from the bag than you usually see pitchers do, so I'm going to call him the slow poke.
From PFP it was over to the bullpen, where Nelson Figueroa was throwing his scheduled session.  Figueroa seems like a fun guy.  A coach was standing behind the catcher calling each pitch a ball, a strike, a hit, or whatever, and each time it was anything but a strike Figueroa would jaw things back at him like "you're blind," or "like you'd know what a strike is," or "that wasn't a hit, Carlos dove for it in the gap and caught it. I got a no-hitter going."  The catcher and the coach were dying laughing. When Figueroa was done he signed autographs for approximately 117 hours, smiling and saying something nice and personalized to every kid that was hanging around.
After watching Figueroa, I noticed David Wright was walking from a back field towards the clubhouse. As he did, a mother prodded her David Wright jersey-wearing son — who was no more than seven years old — to say hello to him.  The boy hesitated and looked back at his mom, unsure of himself. She nodded encouragement. He turned around and said "Mr. Wright!"  Wright slowed down, gave the boy a little finger pistol, a wink, and a "hey kiddo!" and continued jogging toward the clubhouse.  The boy broke out into the biggest smile you've ever seen, turned to his mom and said "Did you see that! Did you see that!" That boy will remember that moment until the day he dies.
It and the Figueroa thing were moments I needed. Why? Because I was about to hit the media room and press box, and as you'll see in our next couple of installments, there aren't many aw-gosh, aw-gee warm and fuzzy baseball moments when you're on the turf of the professional sporting press.