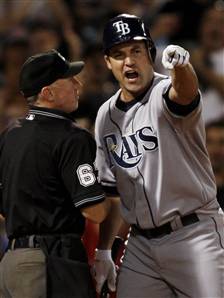 Pat Burrell misses getting booed. Really.
The former Phillies slugger, who spent last season doing next to nothing for the Tampa Bay Rays, sounds in this interview as if he's pining for the passionate hatred of Philadelphia fans.
"I don't know if there is any way of saying this without getting myself in trouble," Burrell said. "But there is definitely a different excitement level [in Philadelphia]. I think more than anything, there is a stronger tradition for baseball there. That goes without saying."
Burrell took a lot of heat during his days in Philly. Heat for his poor defense. Heat for his sometimes streaky bat and penchant for strikeouts. And did I mention his defense? The Rays signed him to a two-year, $16 million deal before the 2009 season when it became clear the Phillies were no longer interested. They gave him a cushy DH job, which not only allowed him the chance to emphasize his bat skills, but also provided safety from his own spikes, which can be quite dangerous when playing the field.
He rewarded them by hitting .221 with 14 home runs and 64 RBIs, one of his worst seasons. Now he's praising Phillies fans for not being anything like the mellow followers of his current team.
"You talk to a lot of players and certain players don't like to play in Philly," Burrell said. "Certain guys love it and I was one of the guys that really enjoyed it. I probably saw the full parameter of the good and the bad. But at all times you knew that people cared. They want you to win and they come out and support you. I'm not sure enough players appreciate that because there aren't many places like it. You have Chicago, New York, and places like that, but I think it's the minority."
Maybe Burrell is just poking a stick into the ant hill, trying to rile the Rays faithful into a healthy lather of hatred, hoping a little passion at the Trop will spur him on to his previously great ways. Or maybe he really does miss Philly with its cheesesteaks, rich history and boisterous fans.
Either way I wouldn't take this sitting down if I was a Rays fan. I suggest the boo birds come out and take it to Burrell for his horrendous lack of respect. Rip him for every strikeout, for every nagging injury, for the millions of dollars he is stealing from your poor, cash-strapped franchise. If Pat Burrell misses getting booed, give him what he wants! Come on Rays fans! Who's with me?
Hello? Anyone?
Are you on Twitter? You can follow Bob here, and get all your HBT updates here.